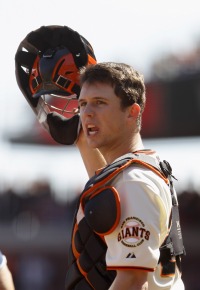 Rangers
closer
Neftali Feliz
and
Giants
catcher
Buster Posey
are your Rookies of the Year. No surprise, really.
The only question about today's results was which deserving National League rookie would win. Buster Posey ended up winning, taking the award over Atlanta's
Jason Heyward
.
While I would have voted for Heyward, I have zero problem with Posey winning. Both were incredible. What strikes me as interesting is the voting results, as Posey won comfortably, getting 20 of the 32 first-place votes and finishing with a total of 129 points. Heyward got nine first-place votes and 107 total points. I honestly thought it would be closer.
Three voters didn't vote for either, one voter went with
Cardinals
starter
Jaime Garcia
, while two voted for
Gaby Sanchez
.
The American League spread was about the same, as the National League. Feliz received 20 first-place votes and finished with 122 points.
Tigers
center fielder
Austin Jackson
finished second, with eight first-place votes and 98 total points.
Twins
third baseman
Danny Valencia
was third.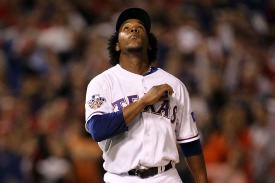 The difference, as discussed last week, was the caliber of candidates in both leagues. Feliz had a good year, but he's a closer, and that's a different role. Just for the record, let's look at the stats from the American League Rookie of the Year:
69 1/3 IP, 43 H, 21 R, 21 ER, 18 BB, 71 K, 2.73 ERA, .880 WHIP
Not bad numbers. Now let's look at a rookie in the National League who didn't garner a single vote.
68 IP, 56 H, 25 R, 22 ER, 17 BB, 92 K, 2.91 ERA, 1.074 WHIP
How about that? How did that guy not even get considered for the National League Rookie of the Year?
That's because he got hurt -- and he was a starter.
Stephen Strasburg
made just 12 starts, but still pitched nearly as many innings as Feliz, who was the Rangers' closer. He didn't have 40 saves.
That said, Feliz definitely deserved the award.
The voting:
National League
(points)
Buster Posey 129
Jason Heyward 107
Jaime Garcia 24
Gaby Sanchez 18
Neil Walker
3
Starlin Castro
3
Ike Davis
2
Jose Tabata
1
Jonny Venters
1
American League
Neftali Feliz 122
Austin Jackson 98
Danny Valencia 12
Wade Davis
11
John Jaso
3
Brandon Boesch 3
Brian Matusz
3
The National League Cy Young Award will be announced tomorrow.
-- C. Trent Rosecrans
For more baseball news, rumors and analysis, follow @cbssportsmlb on Twitter or subscribe to the RSS feed.