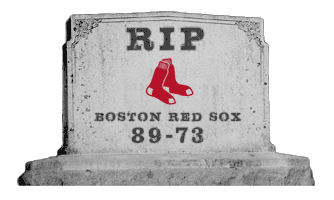 All eyes will be on eight teams starting Oct. 6 for yet another chapter of postseason baseball. As the sports world waits for the crowning of a new (or as the Yankees hope, repeat) champion, 22 other teams are busy preparing for spring training. What went wrong for these teams, and what does 2011 hold? MLB Facts and Rumors here at CBS Sports will be answering those questions through all of October. The Red Sox kick off the latest installment.
The Red Sox went into 2010 with an Opening Day payroll just over the luxury tax threshold. This isn't a common occurrence in Boston, as the club likes to hold cash back for midseason deals, but there was only one problem with that: Boston didn't have the depth to bank on these midseason deals coming to fruition.
In the first year of a two-year "bridge" plan to integrate top minor leaguers into the team, the Red Sox succeeded in putting together an excellent team. They just forgot to sign one person: Lady Luck.
Injuries dominated the entire season en route to an 89-win season, a failure in these parts.

WHAT WENT WRONG

Almost no one was immune from injury, with only
Adrian Beltre
lasting the entire season as a healthy position player. Here's a quick roundup around the diamond:
C:
Victor Martinez
broke his thumb and went on the disabled list for a month.
Jason Varitek
fractured his foot in a season similar to
Dustin Pedroia
's and also missed extended time.
Kevin Cash
and Gustavo Molina did a poor job of holding down the fort while trade-deadline acquisition
Jarrod Saltalamacchia
eventually caved to injury as well.
1B:
Kevin Youkilis
was headed to another MVP-caliber season before tearing a tendon in his right thumb, ending his season on August 3.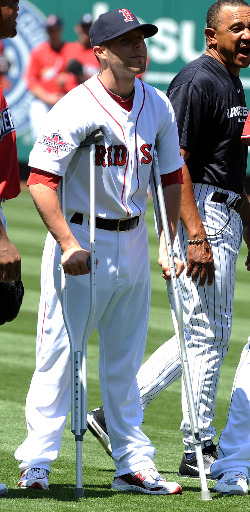 2B: Pedroia (pictured) went down with a left-foot fracture, missing almost two months before returning August 17 and quickly landing right back on the disabled list after a setback.
SS:
Marco Scutaro
gamely stuck in the entire season, but suffered from left-elbow tendinitis, a sore neck, a pinched nerve and a right-shoulder impingement. He eventually had to shift to second base to finish out the year once he no longer could make the throw from short. Expected backup
Jed Lowrie
missed the first half of the season due to mono, but
could battle Scutaro for the shortstop gig
in 2011.
3B: Only Beltre escaped the wrath of the injury gods.
OF:
J.D. Drew
somehow hung in there all season, strange from the poster boy of injuries. He paid for it with one of his worst seasons, while center fielder
Mike Cameron
battled kidney stones and an abdominal tear before hanging it up.
Jacoby Ellsbury
got a Beltre knee to the ribs and suffered through a season full of misdiagnoses, rehab, returns, setbacks and questioning of his makeup.
SP:
Daisuke Matsuzaka
's spring training was delayed with a sore neck among other issues, while
Josh Beckett
celebrated his lucrative contract extension with a back problem that knocked him out over two months with a lower back strain and couldn't put anything together on the mound.
While the bullpen didn't have many injury problems, it had plenty with ineffectiveness and was one of the worst in the leagues. The poor play of closer
Jonathan Papelbon
(and free-agent starting pitcher
John Lackey
) only served to compound matters.

WHAT WENT RIGHT

Clay Buchholz
took the next big step and now pairs with
Jon Lester
-- who cemented himself as one of the best pitchers in the game -- to give Boston a young and incredibly talented top of the rotation. While Buchholz' 2.33 ERA is unsustainably low, there's no hiding his major step forward.
Daniel Bard
impressed on the mound as well en route to becoming one of the most dominant setup men in the game, with many clamoring for his ascension to the closer's role in 2011.
Bill Hall
shook off the cobwebs of the last few seasons, rediscovering the power stroke that enabled him to slam 30 home runs for the
Brewers
. His ability to play multiple positions was a lifesaver for Boston, which was able to deploy him where there were holes.
Darnell McDonald
came up from the minors as a veteran and made a splash in his debut, going on to establish himself as a fourth outfielder who can start against left-handers.
Adrian Beltre had a MVP-caliber season and established himself as a strong clubhouse presence -- but not when
he gets his head rubbed
.
HELP ON THE WAY
The Red Sox knew the minors wouldn't be of much help in 2011, and they were right. While players like
Lars Anderson
and
Josh Reddick
got their taste of the bigs, success was limited to just two.
One was outfielder
Ryan Kalish
, who imitated Sonic the Hedgehog in the outfield with his diving flip catches. Kalish struggled to adjust to major-league pitching but showed the talent and the guts to be named as a future 20 homer/20 stolen base candidate.
Felix Doubront
zipped through Double- and Triple-A en route to making a few starts for Boston before joining the bullpen. Before his season was cut short to (all together now...) injury, he flashed the potential to make a major impact in the bullpen next season. His future in Boston likely lies in how the team addresses its shortcomings in the bullpen.

EXPECTATIONS FOR 2011


The Red Sox will be expected to win, as is always the case in town. Given the team doesn't have much help from the farm on the horizon, Boston will again have to turn to the free-agent market. The Red Sox have a hair over $100 million committed in 2011 salaries and only expected raises for Jacoby Ellsbury and Papelbon to factor in. That should give the team upwards of $50 million to play with, and they'll need all of it with Martinez and Beltre free agents.
SUGGESTIONS FOR 2011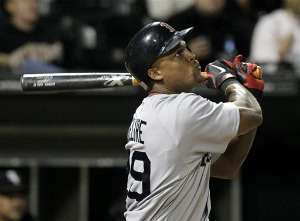 Adrian Beltre should be high on the priority list. No, he won't match his 2010 levels of production, but will remain one of the best third basemen in the game. Even though all signs point to his departure, money talks -- and unlike last season, Beltre now knows what life is like in Boston and seems open to a return.
Victor Martinez should also see a return to town, as he can catch for at least a couple more seasons and give the Red Sox quality at the plate. Martinez' ability to play first base also helps matters. However, Martinez also has his own signs pointing to a departure.
If so, Boston needs to go out and get an impact bat, with five-tooler
Carl Crawford
the prize.
Jayson Werth
would also be a reliable stopgap, but nowhere near the level of Crawford. If Beltre doesn't return, Boston's best bet is to shift Youkilis to third base and go after a first baseman -- perhaps
Carlos Pena
. Pena combines defense and powers, and if you get lucky, can hit for a solid batting average as well.
The bullpen is a key area to be addressed and while it's not Epstein's M.O. to shell out big bucks for a bullpen (which is a sound strategy), it may be time to put that philosophy aside.
Scott Downs
is reliever who has two things most relievers don't: an ability to pitch with a left arm and to pitch well. Epstein needs to bring the bucks and get Downs into the fold as the complement to Daniel Bard. However, the soft underbelly of middle relief is also a problem. Fortunately, there's no shortage of strong right-handed relievers -- the only question is if Epstein will go bargain-basement hunting like usual or shell out for a solid option.
2011 PREDICTION
The Red Sox will come back loaded in 2011, just like they did in 2010. The minor-leagues will be one year closer to helping out, which will only serve to deepen the depth the Red Sox will need as the season winds on. Couple that with the Yankees' own question marks and the
Rays
' planned slashing of the budget after seeing integral parts of the team leave as free agents this offseason, and the road to the playoffs for Boston looks far less prohibitive than 2010's road did.
Check out the rest of the R.I.P. teams here .
-- Evan Brunell
Join MLB Facts and Rumors at 1:30 p.m. on Wednesday to chat live during the Rangers -Rays game!

For more baseball news, rumors and analysis, follow @cbssportsmlb on Twitter or subscribe to the RSS feed .