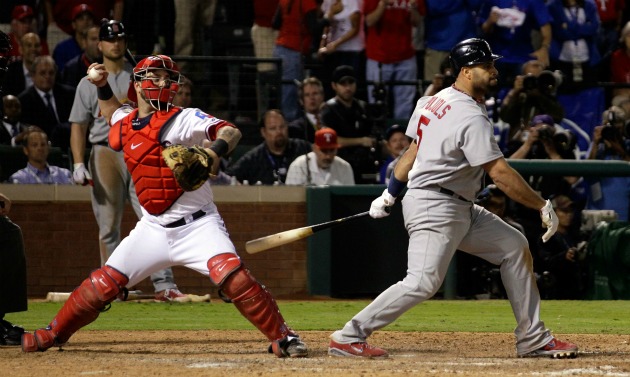 By Matt Snyder
ARLINGTON, Texas --
That Mike Napoli is sure a good hitter, maybe even a really good hitter, but he can't handle the catcher position from a defensive standpoint.
At least that was the sentiment that filtered out of Los Angeles for years as Napoli was either splitting time with weak-hitting
Jeff Mathis
behind the plate for the
Angels
or even relegated to either first base or designated hitter. In the offseason, the Angels further slapped Napoli in the face by trading him for the gawdawful
Vernon Wells
contract. The
Blue Jays
then spun Napoli to the
Rangers
, who most surmised was either first base or designated hitter insurance. After all, Mike Scioscia, Angels manager and former All-Star backstop, just didn't like using Napoli behind the plate. One of the reasons that was made known through the media was Scioscia's affinity for "catcher's ERA" -- that is, what the pitching staff's ERA is with certain catchers behind home plate.
Well, in the World Series, Napoli's catcher's ERA is now 1.29 (five earned runs in 35 innings with Napoli catching). I'm guessing Scioscia would be OK with that, right? Did Ron Washington see something Scioscia didn't?
"Our personal observations, everything we thought we saw in him, we were correct," said Washington. "He hasn't proven me wrong."
Maybe it wasn't Scioscia's fault directly, so maybe Napoli just really needed to work hard and get a chance to catch regularly.
"I can't really say anything about over at Anaheim, I don't know how it was when he was there," Game 4 hero
Derek Holland
said. "I think Napoli's worked really hard on (his defense)."
"I think he just needed the opportunity to get comfortable, to catch a lot of games, and the pitchers love throwing to him," reliever
Scott Feldman
added.
Lots of praise will rightfully be heaped upon Napoli after his big-time performance in Game 5, a 4-2 Rangers' win. He had the big blow offensively but also cut down
Allen Craig
on stolen base attempts twice. The Rangers' pitching staff, who kind of know Napoli-the-catcher, joined in on the love-fest.
"He can do it all, he's a good receiver, he can call a great game, he can throw -- we saw tonight he threw out a couple guys," said Feldman. "He's an all-around good catcher."
"I feel like me and him on are the same page all the time, I feel like we have good chemistry on and off the field," Holland said. "We're like brothers the way we hang out."
"I think we all know that Mike Napoli has been one of the best players in all of baseball since the All-Star Game," said Game 5 starter
C.J. Wilson
.
And if Napoli has aspirations beyond the baseball field, Wilson supports those, too:
"He's been amazing throwing, behind the plate, calling games, too, so I don't know if he's running for President in 2012, but I'll vote for him."
First things first, though, as Napoli and the Rangers are just one win away from taking their first World Series championship. If they do so, Napoli will likely be the MVP of the series. And, even if that doesn't make him the commander in chief, he'll surely take it.
Not too shabby for a player who can't catch and is only offensive insurance.
For more baseball news, rumors and analysis, follow @EyeOnBaseball on Twitter or subscribe to the RSS feed.