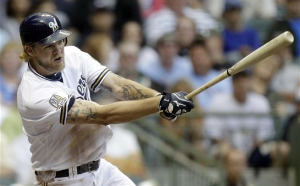 Now that the
reaction to the latest voting of AL
All-Stars is complete, we turn to the
NL
...
It's hard to disagree with
Albert Pujols
at the top of the first base rankings. He's second in the NL in OPS, but not all that far behind Votto and has both the name recognition and defense working for him. But that Votto ranks fifth in voting indicates that not many may be fully appreciating Votto's season. After all,
Troy Glaus
and his .260/.364/.458 line ranks third.
Votto is at .314/.416/.579 with 19 home runs -- tied with Pujols among NL first basemen -- and has Glaus beat in almost every counting category: triples, runs, RBI, stolen bases, strike outs. The two are tied in doubles with 13 apiece, and Votto is the second-best fielder at first according to UZR/150. Glaus? Dead last. We can't even point to a big market or popular player here, really, as Glaus is in his first season with the
Braves
after not playing much of 2009 and Votto's more exciting given he's 26 and Glaus is on the wrong side of 30. Interesting.
At second,
Chase Utley
led the voting which was no surprise, but since he's out for eight weeks with surgery on his thumb, he won't be starting. The logical replacement is in fact, second in the 2B rankings with
Martin Prado
garnering just over 1.5 million votes. Impressive for a relative unknown, but Prado absolutely deserves the nod -- he's leading the NL in batting average at .333.
Third base has another Phillie, Placido Polando, just barely edging out
David Wright
. Unfortunately for Philadelphia, Polanco is shelved until late July so Wright will toe the third-base line in the first inning. The voting is close, here though: Polanco leads everyone with just under 1.5 million votes while fifth place belongs to
Casey McGehee
at one million. It's anyone's game between Polanco, Wright, McGehee and
Chipper Jones
along with
Scott Rolen
.
Really, it's down to Wright and Rolen as the deserving candidates. Wright playing for New York will carry him to the finish line, but he's in a virtual dead heat with Rolen. Rolen has flashed more power than Wright on the year but only barely, and Wright holds the same slim edge in UZR/150 fielding.
At shortstop,
Jimmy Rollins
is less than 500,000 behind leader
Hanley Ramirez
despite barely playing at all through the voting period.
Troy Tulowitzki
was a strong choice to start and currently ranks in third place with his long-term injury hampering his progress. If he hadn't gotten hurt, it would have been an interesting race between HanRam and Tulo.
At catcher,
Yadier Molina
has done absolutely nothing with the bat but is truly gifted with the leather. He has 1.6 million votes, edging out
Brian McCann
-- who leads all qualified catchers in OPS -- with ageless
Ivan Rodriguez
nipping at McCann's heels with 1.3 million votes.
Carlos Ruiz
is also over the million barrier, but is injured.
Rod Barajas
rounds out the voting.
Really, at catcher, it comes down to what you think is the most important. Offense or defense. It's a debate that has skewed to defense in team structure lately, but that was coming off an offensive-infested era.
In the outfield, Ryan Braun,
Jason Heyward
and
Andre Ethier
each have over two million votes apiece, and all are deserving candidates. Also extremely deserving are
Jayson Werth
(4th in voting), Corey Hart (unranked),
Josh Willingham
(unranked) and
Colby Rasmus
(14th). Heyward will miss the game with an injury -- even if he comes off the disabled list in time, as he says -- so Werth will probably slide into Heyward's spot.
Rasmus leads all outfielders in OPS, but was neither a minor-league phenom or someone who made waves in his rookie year last year, so it makes sense that his name isn't quite well-known yet. But it will be.
It's true that many feel Corey Hart (pictured) is a flash in the pan, but is that really a reason not to vote for him? His production is in the bank and irrevocable, and he was one of the league's best hitters. To have him unranked is a disservice, and here's hoping he at least shows up in the final vote.
-- Evan Brunell

For more baseball news, rumors and analysis, follow @cbssportsmlb on Twitter.