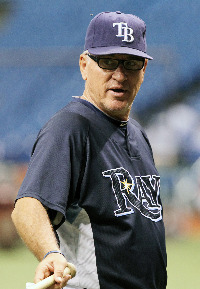 Joe Maddon basically rules. He's the smartest person you'll even run across, insightful, witty and educated. Because of all those attributes, he can do things like claim that Tropicana Field dodged a baseball because he apologized to it on Twitter, and people don't think he's a crackpot.
As you might remember, the
Rays
lost a game last month due to a ball hitting one of the Trop's catwalks, sending Maddon on a tirade about how it was proof Tampa needed a "real" ballpark. Maddon
detailed
on Twitter how he made his peace with the ballpark:
most recent whine was my getting on Trop roof, have since apologized to said roof and r now on much better terms, maybe best ever...
Wednesday night against Toronto, visions of the catwalk game came rushing back as a ball hit by
John Buck
with two outs in the ninth soared deep to left field. If it had hit the catwalk, it would have counted as a two-run, go-ahead homer. But it dropped into
Carl Crawford
's glove and the Rays won 2-1.
"I have made amends with the building, and I have promised not to whine again, and I think because of that, that's why the ball missed something," Maddon
told reporters
afterward. "It was going to hit something, but it missed something. I think I actually saw the catwalk move several inches to avoid that ball."
--
David Andriesen

For more baseball news, rumors and analysis, follow @cbssportsmlb on Twitter or subscribe to the RSS feed .