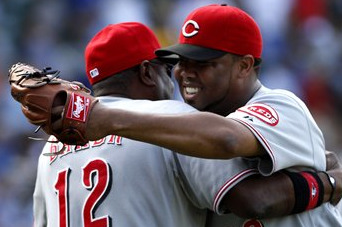 Reds
manager Dusty Baker doesn't want to hear any criticism of closer
Francisco Cordero
, who has a 4.11 ERA -- second-worst of his career, worst as a closer -- for a team struggling to stay atop the NL Central and hold off the
Cardinals
.
"I don't get nervous handing him the ball," Baker told John Fay of the
Cincinnati Enquirer
after yanking Cordero Saturday when the closer gave up two runs and three walks, getting just one out in the ninth of a 4-1 lead. Nick Massett closed the game out, much to Cordero's chagrin:
I could tell he didn't want to give me the ball. He gave me the ball. I got no problem with not wanting to do something — as long as you don't show me up. That's not going to happen.
He's supposed to have problem with coming out. But I've got to do what I got to do to help us win. I've also got to stick with him enough for him not to lose confidence, not to think we lost confidence in him, because he could lose confidence in himself.
Cordero's problem this year has been walks, with his 5.7 BB/9 the third-highest in his career behind two partial seasons in 1999 and 2001, totalling 21 1/3 innings in all. All told, he has 32 walks in 50 1/3 frames.
"He has a good delivery, but like anyone else it can go south on him," pitching coach Bryan Price said of Cordero's struggles. "From my perspective — this is second time we've talked about it over the course of the year — he collapses his back leg and then he throws off his heel. That's why we saw [Saturday] a lot of his pitches were getting pulled to one side of the plate. He got away form being in a good position to throw strikes. The last time it happened it was a quick adjustment.
"It's been pretty easy for him to clean it up in the past."
Meanwhile, Baker wasn't done defending Cordero.
"We've got 63 wins and he's got 30 saves," the skipper noted. "How many other closers have that ratio of saves-to-wins? That shows you how many close games we've played."
Well, even though saves-to-wins is an inherently flawed ratio using two flawed statistics to begin with, let's see if Baker is spot on about how high Cordero ranks in saves-to-wins.
The answer? Not very -- out of closers with enough saves to rank in the top 15 in the majors, Cordero ranks sixth. The leaderboard:
| | | | |
| --- | --- | --- | --- |
| Name | Saves | Wins | SV/W |
| Joakim Soria, KC | 31 | 47 | .660 |
| Matt Capps, WAS* | 26 | 44 | .591 |
| Brian Wilson, SF | 32 | 63 | .508 |
| Heath Bell, SD | 31 | 63 | .492 |
| Leo Nunez, FLA | 26 | 54 | .482 |
| Francisco Cordero, CIN | 30 | 63 | .476 |
| Matt Lindstrom, HOU | 22 | 47 | .468 |
| Rafael Soriano, TB | 31 | 67 | .463 |
| Neftali Feliz TEX | 29 | 64 | .453 |
| Francisco Rodriguez, NYM | 24 | 55 | .436 |
| Kevin Gregg, TOR | 25 | 58 | .431 |
| Jonathan Papelbon, BOS | 27 | 63 | .429 |
| Billy Wagner, ATL | 27 | 63 | .429 |
| Bobby Jenks, CHW | 23 | 63 | .365 |
| Mariano Rivera, NYY | 23 | 68 | .338 |
*Wins and saves are only during Capps' tenure with the Nationals. Capps was traded on July 29.

The one saving grace Baker has after seeing Cordero so roundly defeated in this leaderboard, with Soria almost .2 points higher than Cordero, is that Cordero ranks fourth of teams still considered in the postseason race, although the sample size of these closers shrinks down significantly.
It's not so much about how many saves one has against how many wins. It's how used that closer has been over the season. After all, a closer's job is just as important in a tie-game in the ninth inning as it is with a one-run lead -- even moreso than a three-run gimme that Cordero, as well as other closers, grab without a sweat here and there.
Of relievers that are on the above leaderboard, Cordero is the second-most used closer with 50 1/3 innings, trailing K-Rod's 55 1/3 innings. Now that's a much better indication of how much Coco has been asked to throw.
While Cordero has been struggling, he still remains one of the team's better relievers. As Baker points out, it's hard to find lockdown closers.
Everyone wants you to go get somebody else and put them in there. Who are you going to find out there that's better?
The fact it's not a clean 1-2-3 ... if you put them out there soon or later something is going to happen. You can't be getting out of it all the time. How many clean 1-2-3 save people are there in the world?
Unlike his saves-to-wins point, this one is an excellent point. Legitimate, shutdown relievers are rare. It's why there is such volatility in the position and why teams are increasingly leery of handing closers long-term contracts. Even the best can fall, as Eric Gagne once proved.
-- Evan Brunell
For more baseball news, rumors and analysis, follow @cbssportsmlb on Twitter.