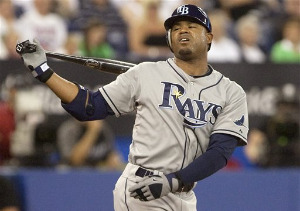 Brandon Morrow
's 17-strikeout,
one-hit gem
last week was mighty impressive, but the team he victimized was no surprise.
It was the fifth time Tampa Bay had managed one or no hits in a game this season, which
baseball-reference.com
points out is a major-league record. The
Rays
have been no-hit twice, including a perfect game, and one-hit three times.
Since 1920, 11 teams have had one or no hits four times. Most of the teams on that list were lousy, and only one (the 1986
Angels
) was a division winner. Yet here the Rays are battling for the lead in baseball's toughest division. How can a team whose offense has the capacity to completely vanish be this good?
The Rays have somehow managed to score the fifth-most runs in the American League (and are within four runs of being in third) while being 12th in the league in batting average. They're not even particularly lucky on the balls they do put in play, with a middle-of-the-pack BABIP of .297. Their clutch numbers are also mediocre.
But the Rays do have ways to make the most of their at-bats and their baserunners. They take the most walks and have stolen the most bases in the league -- both by a wide margin. And the biggest factor on their win-loss mark is not their offense but their pitching -- they allow the fewest runs in the league.
That pitching will go a long way if they make the playoffs, but on the other hand, they're going to see great pitching as well. The fact that the offense is susceptible to being completely overwhelmed has to be worrisome for Rays fans.
-- David Andriesen
For more baseball news, rumors and analysis, follow @cbssportsmlb on Twitter.