Leading up to Saturday's trade deadline, the MLB Facts & Rumors team takes a look at the biggest names on the trade block. Wednesday examines perhaps the best reliever on the market, Toronto's Scott Downs.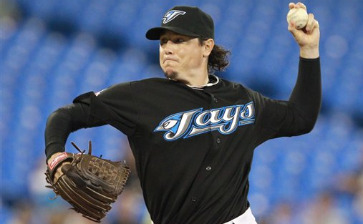 Career stats:
26-28, 3.80 ERA, 359 G, 50 GS, 551 2/3 IP, 204 BB, 433 K
2010 stats
: 4-5, 2.34 ERA, 47 G, 42 1/3 IP, 10 BB, 35 K
Contract status:
Signed a three-year, $10 million contract for the 2008 season. Making $4 million on the year and is an impending free agent who stands to be Type A.
Why he's desirable
At 35 years old, Downs doesn't exactly have many years remaining in him. However, the former starter-turned-reliever has emerged as one of the best left-handed relievers in the game. Over the last four seasons from 2007-10, Downs has appeared in 242 games, posting a 2.27 ERA.
Of non-closers, that's the second-best ERA of any reliever with at least 150 games over the same time period --
Arthur Rhodes
has a 2.10 ERA in 174 games (128 1/3 innings). Rhodes, however, missed the entire 2007 season due to injury.
Including closers and Rhodes, Downs has the sixth-lowest ERA in the bigs since 2007 (
Mariano Rivera
, Rhodes,
Joakim Soria
,
Jonathan Papelbon
,
Billy Wagner
). In short: He's good.
Why he's available
The
Blue Jays
are a rebuilding club, their seemingly-annual first-half run of success notwithstanding. The team is 12 games behind the
Yankees
, fourth in the AL East with a dwindling 52-49 record. With Downs an impending free agent and a strong market for quality arms in a quality-depleted environment, Downs is a hot commodity. He can bring back a strong prospect that can further Toronto's rebuilding efforts. And let's get real -- when the Jays are ready to seriously contend, Downs could very well be retired.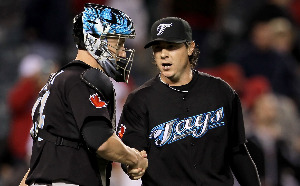 Who is interested
The Yankees and
Red Sox
seem most hot after Downs services, as both AL beasts are contending with left-handed relief struggles as well as poor bullpen performance overall. While the Yankees and Red Sox should be considered forerunners, the list of suitors for Downs is expansive. Among the suitors are:
Dodgers
,
Mets
,
Phillies
,
Reds
,
Rockies
and
Twins
.
Of that list, it's tough to imagine the Mets and Rockies pulling off a deal. The Mets are falling behind the division race and
recent reports
have the Mets seeking an underpriced reliever. The Rockies, for their part, are also slipping out of the race and may choose to stand pat now that they've gotten
Troy Tulowitzki
back. Philadelphia is in a similar position with many injured and the
Braves
pulling away in the East.
The Twins are more interested in a starting pitcher, but could choose to bolster the bullpen instead. The Dodgers have some space to add payroll at the deadline, but like the Twins, are more focused on starting pitching. The back of the Reds' bullpen is fairly thin, so Downs could combine with Rhodes for to bring two shut-down lefties to the NL Central race.
UPDATE:
The
Giants
are also
in on
Downs, but they figure to focus on acquiring a bat.
Expected return
The Blue Jays are asking for a ridiculous amount in return for Downs. As a potential Type-A free agent, Downs can bring back a first-round pick plus a complementary pick after the first round, provided the Jays offer arbitration. Even if Downs accepts, he would make in the neighborhood of around $4-6 million for 2011, a more than affordable deal for such a prime shut-down reliever.
George King of the
New York Post
reports
that the Jays asked the Yankees for top prospect Jesus Montero, an exorbitantly high price for a middle reliever about to become a free agent. GM Brian Cashman of the Yankees had previously made Montero available in a deal for
Cliff Lee
but maintains that was the only player on the market Montero would have been swapped for.
The Jays also had a high price for the Red Sox, requesting either starting pitcher Casey Kelly or shortstop Jose Iglesias in return for Scott Downs. You can bet Theo pressed the "end call" button on his cell phone seconds after that request. Alex Speier of WEEI.com
reported
that the Jays have been heavily scouting Roman Mendez of Boston. Mendez is currently pitching for low Class-A Lowell.
While a prospect the caliber of Montero, Kelly or Iglesias is simply impossible to happen, the Jays can definitely extract a blue-chipper with an intriguing profile -- ala Mendez -- for Downs and could even haggle a second prospect out of the interested team. The only question is if it will be enough for Toronto to trade in the division. None of the other suitors seem remotely close or as interested in Downs as Boston or New York.
What happens
The guess here is that while the Jays like Mendez and move to acquire him, the Yankees will sweep in with an offer just good enough to bring Downs in. New York has designs on a second straight World Series, but that won't happen with a bullpen as porous as it currently is. It needs massive upgrading, and Downs is the salve to the Bronx Bombers' open wound.
More trade deadline targets --
Jorge Cantu
|
Roy Oswalt
-- Evan Brunell

For more baseball news, rumors and analysis, follow @cbssportsmlb on Twitter.