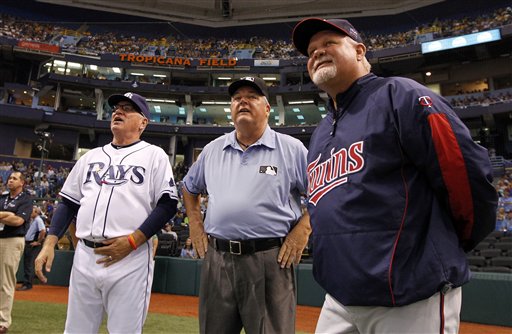 The catwalk at Tropicana Field cost the
Rays
one game, manager Joe Maddon doesn't want to cost the team more.
Maddon
told reporters
before Friday's game in Toronto that he believes the ground rules could be changed before the postseason.
"I honestly believe that if we were to get to the playoffs you might see some real strong consideration or more thought given to changing something now," Maddon said. "I think that's possible. I do. Truly, just think about a game being won or lost -- just say it were the seventh game -- and say that game was impacted by that, both sides would be yelling bloody murder."
As a solution, Maddon suggested the ever-popular "do-over" -- and also added that if a car came down the street while the ball is in play, it's a dead ball and there's also a "do-over." However, if a ball goes through Old Man Brown's window and he won't give it back, the hitter's team forfeits the game.
-- C. Trent Rosecrans

For more baseball news, rumors and analysis, follow @cbssportsmlb on Twitter.