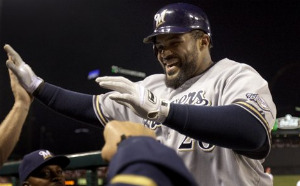 The
White Sox
continue to pursue a big bat and have turned their attention to
Prince Fielder
,
reports
FOX Sports' Ken Rosenthal.
Chicago has been tied with
Adam Dunn
, but Washington's exorbitant price tag has scared off GM Kenny Williams, who made anyone in the farm available for Dunn. The Nats, however, reportedly are holding out for, among others,
Gordon Beckham
.
While Williams isn't willing to move Beckham for Dunn, he may for Fielder as Buster Olney of ESPN
notes
. However, the
Brewers
' primary goal is to acquire a starting pitcher. While the Pale Hose have
Daniel Hudson
in that category, the Brew Crew view Hudson as only a No. 3 starter at his best, which isn't enough to deal Fielder.
One thought could be to acquire Beckham and Hudson and then seek to flip second baseman
Rickie Weeks
or third baseman
Casey McGehee
for a starting pitcher, although the caliber of pitcher the Brewers would get back for one of the two would also be a No. 3 type. Milwaukee has a decision to make, then: try to acquire two No. 3 starter types or hold Fielder out for an ace.
Milwaukee's pitching depth is so thin that the former opportunity is not all that terrible, but it's difficult to move such an important part of the team's offense and only come away with two middle-of-the-rotation types.
Fielder is making $10.5 million on the year and will be eligible for arbitration one final time in 2011 before hitting the free agent market. His value may not be higher than it is now, as many scouts are concerned about his bad body and how well it will hold up over the length of his free-agent contract. Agent Scott Boras is currently talking as if Fielder deserves a bigger contract than
Mark Teixeira
got from the
Yankees
.
It's highly doubtful that Milwaukee will retain Fielder after becoming a free agent, so the Brewers may be forced to take the best deal they can get now -- it's unlikely they could get a better deal in the offseason or at the trade deadline next season.
-- Evan Brunell
For more baseball news, rumors and analysis, follow @cbssportsmlb on Twitter.