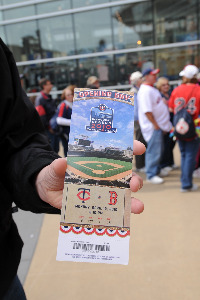 The
Rays
are the latest team to capitalize on the ridiculous new trend of selling people mementos of an experience they didn't have.
Fans attending "Joe Maddon's Summer Social," part of a charity event on August 15, will receive a
game ticket
from Monday night's
Matt Garza
no-hitter. A game ticket. Printed after the game was played. And thus not a ticket to anything except maybe lying to your grandchildren someday.
There were 17,009 tickets sold for Monday's game (attendance was even lower due to season ticket no-shows), and the capacity is around 45,000, so that's 28,000 people who can own a piece of fake history.
At least in this case the tickets are being distributed to help promote a charitable event. The
Marlins
took a much more unseemly route after
Roy Halladay
's perfect game against them on May 29,
selling
the unpurchased tickets at face value. Making a cash grab to take advantage of your own team's failure? That's just sad.
The
White Sox
also are in the fake ticket club, selling "souvenir"
unused tickets
from
Mark Buehrle
's perfect game last season. But at least they were selling them as souvenirs of something one of their own players accomplished.
Does this seem crazy to anyone else? It's one thing to collect used, actual tickets from historically significant games. But to manufacture "pieces of history" that didn't exist when the history happened, it feels like it cheapens the event.
-- David Andriesen

For more baseball news, rumors and analysis, follow @cbssportsmlb on Twitter.