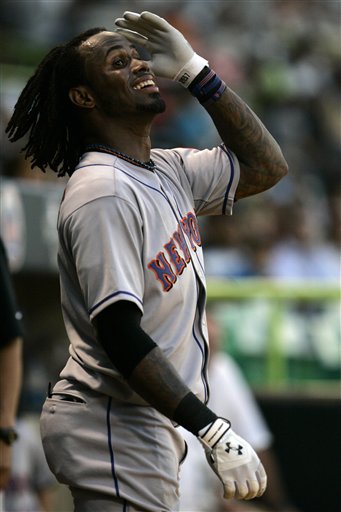 Reds
manager Dusty Baker has filled out his lineup card for every position in the lineup but the last one, his pitcher.
Rookie left-hander
Travis Wood
was scheduled to start today, but
Aaron Harang
was a late scratch Monday against the
Mets
with low back pain and hoped to start Tuesday.
However, reports were that Harang was really struggling to get around following Monday's Reds victory and the
Cincinnati Enquirer 's John Fay reports there is a Matt Maloney checked in at the Reds' New York hotel
.
Maloney was scheduled to start Tuesday for the Reds' Triple-A team in Louisville. Maloney is 6-5 with a 3.50 ERA in Louisville.
If Maloney does indeed pitch, that could help the Mets, who were hoping to return Jose Reyes to the lineup on Tuesday against the left-handed Wood. Those plans were up in the air against the right-handed Harang, but Maloney is left-handed, meaning Reyes could return as planned. The Mets are hoping to limit the switch-hitting Reyes to batting right-handed to help rehabilitate his oblique muscle,
according to the New York Post
. Reyes has said he's unsure if he can swing from the left side.
UPDATE:
Reyes is in the lineup, leading off. Maloney is at Citi Field in case he is needed.
UPDATE 2:
Harang has been placed on the disabled list with lower back spasm, retroactive to June 30. He is eligible to come off the DL on July 16. Maloney will start for the Reds tonight.
-- C. Trent Rosecrans

For more baseball news, rumors and analysis, follow @cbssportsmlb on Twitter.