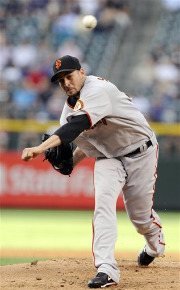 The weekend's marquee matchup will take place amid the cool breezes wafting off McCovey Cove, when the
Padres
visit the
Giants
with first place in the National League West on the line.
The Giants are 2 1/2 games back -- and would be in first place already if they had played even .500 ball against San Diego this season. The Padres are 7-1 against the Giants, including a sweep at AT&T Park in May. But the Giants have won nine of 11 home series since then.
Giants lefty
Jonathan Sanchez
(pictured) has given the series a little extra spice with his guarantee last Sunday that San Francisco would sweep the Padres and go on to win the division.
"We're going to play San Diego, and we're going to beat them three times," Sanchez
said.
"If we get to first place, we're not going to look back."
The statement didn't sit well (in either clubhouse, actually), but Sanchez will have the chance to back it up Friday when he throws the first pitch of the series.
"All of us say things we might have said a little differently," Giants manager Bruce Bochy
said.
"We have tremendous respect for the San Diego club and what it's accomplished. We've got to go out there and play a good club. I don't think he meant to say it the way he said it. They've been tough on us."
Padres manager Bud Black wouldn't provide any bulletin board material Thursday when asked about the Sanchez guarantee.
"That's why we'll fly up there and see what happens," Black
said.
The Giants enter the series with two wins in a row after a
narrow escape
in Chicago on Thursday. The Padres have won four straight.
-- David Andriesen
For more baseball news, rumors and analysis, follow @cbssportsmlb on Twitter.