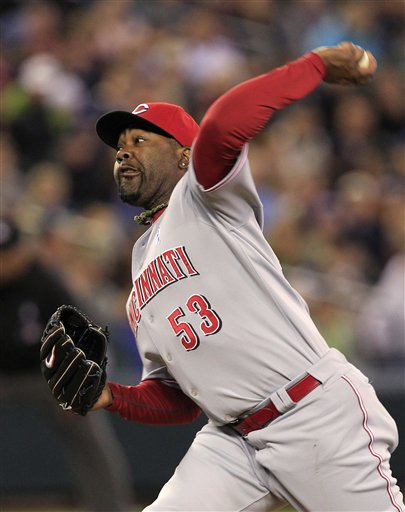 CINCINNATI -- Tuesday night
Reds
reliever
Arthur Rhodes
had a streak of 33 consecutive appearances without allowing a run snapped by the
Phillies
in a 9-6 loss.
So what did Rhodes do on Wednesday?
"Start a new streak," Rhodes said.
Not only did he exercise his daemons against the same team, he did it against the same hitters.
Tuesday Rhodes gave up a double, walk and double to
Ryan Howard
,
Jayson Werth
and
Raul Ibanez
in the 10th inning, to give Rhodes the loss. Wednesday afternoon he struck out Howard and Werth before getting Ibanez to fly out to end the eighth. Not only that, thanks to
Jay Bruce
's homer off of
Roy Halladay
in the eighth, Rhodes picked up his third victory of the season.
"I had revenge on some guys I have to go out and get," Rhodes said.
Reds manager Dusty Baker has always stressed the importance of getting a reliever back in a game after a bad game to give him an opportunity to make good, and Baker said it was just as important for a veteran like Rhodes to get that chance as any rookie.
"Arthur was the first one to come in and say, 'Thanks for getting me back out there,'" Reds manager Dusty Baker said. "I really didn't need that, I was going to get him back out there no matter what. It's important to anybody. It's apropos he got the loss last night and the win tonight."
Rhodes'
streak of scoreless appearances
tied for the most in one season, shared by Mark Guthrie of the
Mets
in 2002 and Mike Myers of the
Rockies
in 2000.
Rhodes had stopped talking about the streak to the press -- not that he speaks much with the press anyway -- but hadn't stopped thinking about it.
"It was only mind for a little bit, when you've got something going on like that, a hitting streak or a home run streak, you think about it every day" Rhodes said on Wednesday. "That was on my mind the whole day. Now it's over with and started a new one today."
At 40, Rhodes is having an All-Star calibre season, allowing four runs (three of those last night) in 37 games and 33 innings, good for a 1.09 ERA. He's struck out 32 batters and walked 12, while allowing 18 hits.
"I'm pitching about the same I did in 2001," Rhodes said. "I've got to keep it going, doing what I'm doing."
In 2001, Rhodes went 8-0 with a 1.72 ERA for Seattle.
Also in 2001, Bruce was 14.
"That is a long time, I'm not going back further than that," Rhodes said. "I don't want to."
Bruce had yet to turn five when Rhodes made his big-league debut in 1991 and 10 when Rhodes finished 20th in MVP balloting in 1997 with Baltimore , where he was 10-3 with a 3.02 ERA.
Rhodes has likely been more valuable to the Reds this season, three years after Tommy John surgery. While many of the Reds relievers, including closer
Francisco Cordero
and
Nick Masset
, have struggled, Rhodes has been the bullpen's rock allowing the team to battle for first place with St. Louis. That's why it was nice to see Reds fans acknowledge that Tuesday night, when they gave him a standing ovation as he exited the game in the 10th inning, having just given up runs that would mean the team would drop out of first place.
"They appreciate quality, they appreciate what this guy has meant to the organization and the pride of the city in winning," Baker said. "He's one of the real warriors, I enjoy having on the team."
-- C. Trent Rosecrans

For more baseball news, rumors and analysis, follow @cbssportsmlb on Twitter.