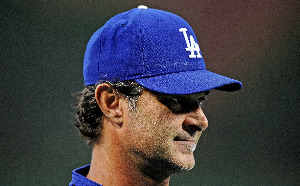 In Tuesday night's game, hitting coach Don Mattingly was standing in for manager Joe Torre and bench coach Bob Schaefer, who had been ejected from the game.
In the ninth inning, Mattingly visited pitcher
Jonathan Broxton
on the mound after walking
Aubrey Huff
. Mattingly then turned to go back to the bench before turning around to speak to first baseman
James Loney
, inadvertently making two trips to the mound even as home plate umpire Adrian Johnson yelled "No, no, no."
If a coach visits the mound for the same pitcher twice, the pitcher must be removed from the game, according to rule 8.06 (b). The umpires forced Broxton from the game, making
George Sherrill
come in and give up a two-run double to
Andres Torres
that won the game for the
Giants
.
However, the umpires erred in the ruling, league officials
told
the
San Francisco Chronicle
. There is an additional comment about the rule stating that if the manager makes two trips with the same batter at the plate, the manager must be ejected and the pitcher forced to face the batter before also being removed from the game.
This rule is in place to prevent a manager from getting a pitching matchup in his favor. If a new pitcher comes into the game, the opposing team is allowed to pinch-hit and the new pitcher must face the batter -- the manager who brought in the pitcher cannot bring in a new pitcher who may be better suited to getting the pinch-hitter out. The additional comment of rule 8.06 (b) of ejecting the manager (provided the manager has been warned about his possible ejection) and forcing the pitcher to face the batter is to ensure the defense's manager cannot pull such a tactic if a pinch-hitter is inserted.
Therefore, the umpires forced Broxton to face Torres, which the
Dodgers
certainly would have preferred instead of Sherrill having to come into the game. Mattingly, on the other hand, would have been allowed to remain in the game as there was not ample warning by the umpire as to the rule.
However, there is no recourse as the Dodgers did not lodge a protest as to the decision. The issue is over, and the umpires have been informed of the mistake.
-- Evan Brunell


For more baseball news, rumors and analysis, follow @cbssportsmlb on Twitter.