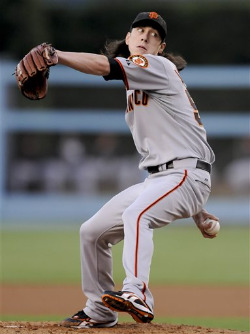 Lost in the hubbub of Tuesday's wacky,
controversial
Giants
-Dodgers game was the performance of
Tim Lincecum
, a performance that has some wondering whether the Giants should shut him down.
Wait, what? Why would a team in a playoff race shut down a two-time defending Cy Young winner with great numbers (10-4, 3.18 ERA)?
Because Lincecum, according to those who watch him regularly, is showing signs that something is wrong. He didn't make it out of the fifth inning Tuesday, gave up five runs, struck out only two and threw a wild pitch straight up in the air.
Dave Cameron at
fangraphs.com
has been monitoring a steady decline in Lincecum's velocity. He used to regularly be in the 93-94 mph range, but Tuesday he averaged 89 and seemed to struggle badly with his control. He's still striking people out, but not at the rate he has the past two years, and his walks are up.
Lincecum's nickname is The Freak for a reason -- his delivery and training methods are extremely unusual. The general consensus going into the 2006 draft was, "Great stuff, but it's just a matter of time until the little guy's arm breaks off."
Pennant race or not, it might behoove the Giants to make sure their ace is completely healthy before risking any long-term issues.
-- David Andriesen

For more baseball news, rumors and analysis, follow @cbssportsmlb on Twitter.