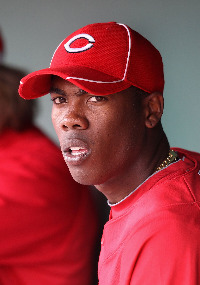 The anticipated major-league debut of Aroldis Chapman won't happen this weekend.
The
Reds
, as anticipated, put right-hander
Russ Springer
on the disabled list Saturday with a hip strain, but called up to take his place was right-hander Carlos Fisher. There had been speculation that the roster move might bring up Chapman, the Cuban defector the Reds signed to a huge contract in January.
Chapman has spent the entire season at Triple-A Louisville. He spent an uneven stretch in the rotation (5-5, 4.11 ERA) and was moved to the bullpen, where he has dominated (3-1, 2.61). The Reds still see him as a starter down the road, but he'll probably debut in the Reds bullpen before the season is out.
Manager Dusty Baker
told reporters
Fisher was called up because he could make longer appearances than Chapman, who hasn't thrown more than two innings in his past 10 appearances.
"We needed some length," Baker said. "That's the one thing we were still missing in the bullpen when we sent Fish down. We didn't have a guy that could go three innings comfortably and a guy that could save the bullpen for the next day and the next day. That's what he gave us when he was here before."
MLB.com Reds reporter Mark Sheldon thinks an
additional factor
might have been the Reds' desire to make Chapman's call-up as comfortable for him as possible. The Reds are in Chicago, and Wrigley Field is a chaotic environment with a ton of media. The Reds might prefer that Chapman get acclimated in Cincinnati.
-- David Andriesen

For more baseball news, rumors and analysis, follow @cbssportsmlb on Twitter.