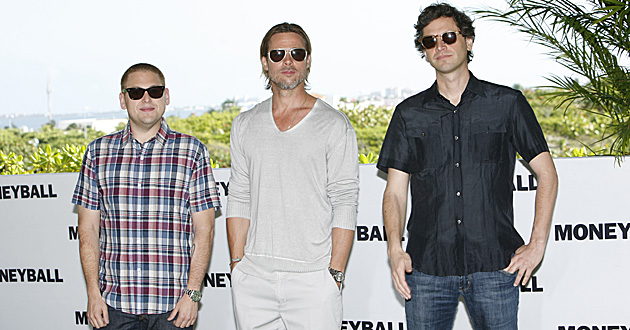 By Matt Snyder
A movie about baseball has gotten some substantial love in
Golden Globe nominations
. "Moneyball" has been nominated in the drama category for best motion picture, best actor (Brad Pitt), best supporting actor (Jonah Hill) and best screenplay (Aaron Sorkin, Steven Zaillian). Considering there weren't really any female parts of significance, the movie was basically nominated everywhere it could have been nominated.
The movie is based (some parts pretty loosely) on a book about Oakland A's general manager Billy Beane (played by Pitt) competing with the big boys in his small-market organization. The movie focuses on Beane putting together his 2002 roster after losing
Jason Giambi
,
Jason Isringhausen
and
Johnny Damon
to free agency. Lots of baseball people seem to hate the movie because it virtually ignores the "big three" starting pitchers:
Tim Hudson
, Mark Mulder and
Barry Zito
. The movie also pretty much ignores the presence of the A's two stud offensive players in Miguel Tejada,
Eric Chavez
.
Then, of course, you have the crowd who refuse to read the book or see the movie but still hate both because they think they're for stat geeks and that somehow the movie credits Beane with inventing sabermetrics or even on-base percentage. It's fallacious thinking, but it's out there. Generally speaking, if you judge something without actually having seen/read it, you're bound to end up sounding stupid -- and there's no exception here.
Personally, I liked the movie. I know what happened in 2002 and who was on the team. But when I went to see the movie, I knew I wasn't viewing a documentary and instead a Hollywood production meant to entertain. They obviously had to take liberties and create storylines, because the book itself isn't movie-friendly. To each his own, but I loved the movie from an entertainment standpoint. Evidently I wasn't alone, as the four Golden Globe nominations are quite a feat.
For more baseball news, rumors and analysis, follow @EyeOnBaseball on Twitter, subscribe to the RSS feed and "like" us on Facebook.