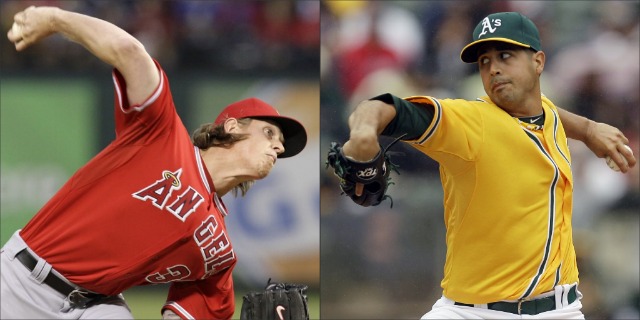 By C. Trent Rosecrans
Today we're starting another daily feature at Eye on Baseball, On Deck will bring you three of the things you need to know for each night's game, from streaks to showdowns to pennant battles and beyond, we'll highlight three games or players each night, letting you know what to watch for in the day's slate of games.
Best matchup -- Oakland's Gio Gonzalez vs. Anaheim's Jered Weaver. I'm not a big believer in the East Coast bias myth, but will say that if this were a Yankees-Red Sox matchup, you'd already be sick of hearing about these two. Gonzalez is coming off his first loss of the season, a 5-3 defeat at the hands of the Red Sox, but is still 2-1 with a 1.80 ERA. Weaver may be the American League's best starter, at least in April, leading the league in ERA (1.23) and with five wins. The game doesn't start until 10:05 p.m. ET, but it's worth staying up late to watch -- and with these two on the hill, even those on the East Coast won't have to stay up too far after bedtime. A's at Angels, 10:05 p.m. ET
Streaking -- Andre Ethier enters tonight's game against the Marlins as the owner of a 21-game hitting streak. It's the longest April hitting streak in Dodgers history, but still 10 games behind the team's best hitting streak. Willie Davis hit in 31 straight games in 1969, breaking the previous record of 29 held by Zack Wheat, set in 1916. Dodgers at Marlins, 7:10 p.m. ET
Closer watch -- The Phillies have a new closer in Ryan Madson after Jose Contreras went on the disabled list on Sunday. Contreras was already filling in for the injured Brad Lidge, but Madson has been the team's closer-in-waiting for more than a year now and will get yet another shot at showing Philadelphia he can do the job full-time. Tonight may not be his best shot, with Cliff Lee (2-1, 3.91) on the mound for the Phillies and Ian Kennedy (2-1, 5.64) starting for Arizona, there may not be much pressure -- nevermind a save situation -- in the ninth inning at Chase Field tonight. Phillies at Diamondbacks, 9:40 p.m. ET
For more baseball news, rumors and analysis, follow @cbssportsmlb on Twitter or subscribe to the RSS feed.