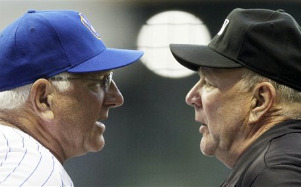 The
Brewers
have had a disappointing start to the season, 40-49 at the break and 8 1/2 games out of first place.
GM Doug Melvin has no interest in firing manager Ken Macha despite the squad not living up to expectations, however. Rumors had surfaced that Melvin might not be in the dugout to kick off the second half which prompted Melvin's comments.
"I'm not a big believer in interim managers," Melvin told Tom Haudricourt of the Milwaukee Journal-Sentinel . "If things get to the point where you see no fight in the players, that's different."
For now at least, the fight very much so remains in the players, and Macha will stay in the dugout. Whether he remains there to begin 2011 is a different story altogether as the veteran manager is in the final year of his contract.
Melvin also addressed
trade rumors primarily centering
around
Corey Hart
who has predominantly been linked to the
Giants
and
Rays
. Melvin said he's not actively shopping anyone, but has spoken to various general managers about trades.
"If I think we have matches with other clubs, I'll talk to them," he stated. "If something came along that made us better for now and in the future, you've got to look at it. If a trade makes you better, you do it. You don't trade just to trade."
-- Evan Brunell
For more baseball news, rumors and analysis, follow @cbssportsmlb on Twitter.