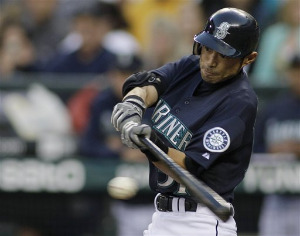 With 47 games left in the season, there's not much cause for fans to watch the 44-71 Mariners stumble to their second 100-loss season in three seasons.
But one reason to watch the rest of the season is Ichiro's chase of a 10th consecutive season with 200 hits. If he can do it, he will break his own record of nine consecutive which broke Wee Willie Keeler's eight, culminating in 1901.
And he could set a new record, tying Pete Rose for the most seasons with at least 200 hits -- except while Ichiro's record would be consecutive, Rose's was set over 17 seasons.
To do so, however, Ichiro has a tough path. With 147 hits, he needs 53 in the 47 games left, but hitting coach Alonzo Powell isn't concerned, despite a poor July that saw him hit just .346.
"He is a guy who can run off 50 hits in a month," Powell told MLB.com. "He has done it a number of times."
With a .317 average so far in August, Ichiro has pulled his projected total to 207 hits. August has generally been feast or famine for him over his career, so it's questionable if he can keep up his hot start to the month -- especially on a team going nowhere and seemingly deteriorating from behind the scenes.
But don't count out the motivation of that 10th straight season with 200 hits.
Keizo Konishi, a reporter from Japan who has covered Ichiro's time stateside, says "I think 200 hits is one of the most important things for him, just like it is every year -- but what I feel is that he seems to think it's a little bit different than last year. He already is at the top of that record. ... This year it would be good to have 200 hits, but it's different than last year."
Okay, so if the team is floundering and he has some -- but not a lot -- of motivation to get 200 hits, what's he playing for?
"He has to play hard for the expectations of the fans and the expectations of himself," Konishi said. "He plays for his pride."
Recently deposed manager Don Wakamatsu also weighed in prior to his firing of Ichiro's off season, saying that the lack of a thumper in the middle of the order has changed how Ichiro is pitched.
"He's the only .300 hitter in the lineup and he normally doesn't walk, so they are forcing him to swing at pitches a little farther out of the zone than he normally does," Wakamatsu said. "I see him fouling off a lot more pitches than I did last year. Not because he is missing, but because the pitches are not as good as he was afforded last year, in my opinion."
If Ichiro misses out on 200 hits, that doesn't mean he won't be back in 2011 to chase another 200-hit season. Or 2012. Or 2013. Or even all the way through 2020.
"He keeps himself in great shape and works hard," Powell said. "If he puts his mind to it, I think he could play another 10 years."
-- Evan Brunell
For more baseball news, rumors and analysis, follow @cbssportsmlb on Twitter.