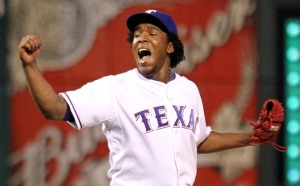 With the major baseball awards being announced next week, MLB Facts and Rumors will reveal their choices this week for the awards. Today, Evan, David and Trent name their Rookie of the Year selections. At the end of the article, the overall MLB Facts and Rumors winner will be announced using a points system, with the No. 1 selection receiving three points, down to No. 3 receiving 1.
Both the AL and NL rookie of the year race is generally down to two favorites. The AL has
Neftali Feliz
, the
Rangers
' closer doing battle against center fielder
Austin Jackson
of the
Tigers
. In the National League, it was a banner year for rookies but the two top candidates are catcher
Buster Posey
of the World Champion
Giants
and right fielder
Jason Heyward
of the
Braves
.
AMERICAN LEAGUE ROOKIE OF THE YEAR

David Andriesen
1. CL Neftali Feliz, TEX
2. CF Austin Jackson, DET
3. SP
Brian Matusz
, BAL
Feliz saved 40 games, more than any rookie in history. Of course, rookie closers aren't exactly commonplace, but that's impressive. Jackson tailed off a bit late in the season but definitely stands above the other position players.
Evan Brunell
1. CF Austin Jackson, DET
2. CL Neftali Feliz, TEX
3. SP Brian Matusz, BAL
A 22-year-old saving 40 games for a division winner is no small feat. However, as impressive as his season was, I can't give his 269 total batters faced the nod over Jackson's 675 plate appearances of a .745 OPS and top-notch defense.
C. Trent Rosecrans
1. RP Neftali Feliz, TEX
2. SP Brian Matusz, BAL
3. OF Austin Jackson, DET
I wouldn't go far to say "obvious." I think Feliz has the most "obvious" talent, but the save stat -- especially in today's game -- is so overrated I hate for it to be a deciding factor. In fact, I think it's not so much "obviously" Feliz, as Feliz by default. Listen, I'll take Feliz long-term over any of the other AL rookies, but I'm not sure he was as dominant all season as we remember throughout the postseason. That said, I'm still going for Feliz, but by a nose over Matusz, who made 32 starts for the
Orioles
.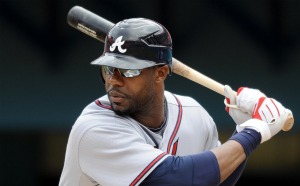 NATIONAL LEAGUE ROOKIE OF THE YEAR

David Andriesen
1. C Buster Posey, SFG
2. RF Jason Heyward, ATL
3. SP
Jaime Garcia
, STL
What an amazing field of candidates here – half a dozen guys have ROY numbers in a normal year. Posey and Heyward are 1 and 1A for me; I
know I'm not supposed to count postseason, but maybe it tainted my choice. Apologies to
Gaby Sanchez
,
Tyler Colvin
and
Jonny Venters
.
Evan Brunell
1. RF Jason Heyward, ATL
2. C Buster Posey, SF
3. SP Jamie Garcia, STL
If award voting didn't occur until after the postseason,
Josh Beckett
would have won the 2007 Cy Young Award over
CC Sabathia
. A similar situation arises today as Buster Posey is certainly the best rookie, postseason included. But the voting is for regular season only, so Jason Heyward rightfully takes the title. To me, the additional time played at a high level is too hard to ignore. Trent nails the Heyward-Posey debate below.
C. Trent Rosecrans
1. RF Jason Heyward, ATL
2. C Buster Posey, SF
3. SP Jaime Garcia, STL
As difficult as it was picking an AL Rookie of the Year, it's even more difficult to pick the National League's winner -- but for the complete opposite reason. This may be remembered as one of the greatest years for rookies in one league in a long, long time. I can't even imagine making the case for which player I would take long-term, Posey or Heyward. Hell, I'll take the second pick and be happy. But the deciding factor for me is something that was out of Posey's hands -- Heyward played 142 games as a rookie and went through the ups and downs. The book was out on him early, and he still played well. Posey finished with as many homers, but Heyward still had a better OPS+, which is impressive considering the number of at-bats. Now, if postseason stats were included, I may change my story, but they're not. Crazy that in the AL, or most other years, Garcia could be considered a shoo-in, but now he's an also-ran.
MLB Facts and Rumors AL Rookie of the Year

Neftali Feliz gets the nod with 8 points to Jackson's 5. Matusz finishes with 4.
MLB Facts and Rumors NL Rookie of the Year
Jason Heyward fends off Posey with 8 points to Posey's seven. Garcia finishes way behind with three.
-- Evan Brunell
For more baseball news, rumors and analysis, follow @cbssportsmlb on Twitter or subscribe to the RSS feed.