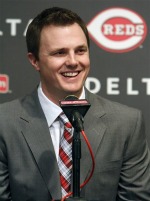 The
Reds
announced a six-year contract extension with
Jay Bruce
on Tuesday. Bruce, who won't turn 24 until April, is the proud owner of a $51 million contract.
The five questions (or more) is something our football brethren have been doing for a while
(check it out here
), and we thought you might enjoy a baseball version. The Reds held a news conference on Tuesday for Bruce and CBSSports.com's Facts & Rumors blogger C. Trent Rosecrans caught up with Bruce afterward.
1. CBSSports.com:
So, at the end of this contract (even if you include the team option for 2017), you'll still be younger than
Jayson Werth
was this year…
Bruce:
(Laughs) Yeah, you know I paid a little bit of attention to that. We're just starting this one. It's something that takes care of itself. Winning takes care of it too. If you win, everyone's going to be happy and excited to play. I'm just really excited about this.
2. CBS:
Speaking of winning, how many times have you watched that home run to clinch the division?
Bruce:
I've seen it a lot. Whether I've watched it, seeked it out, that's different. It was a great moment.
CBS:
You still get chills?
Bruce:
Absolutely. It was a great moment for me and a great moment for the Cincinnati Reds fans. Those people, it's been thin around here for a few years, but we're bringing back a good tradition. There's such tradition here in Cincinnati, I'm just happy to be part of the revival.
CBS:
There's a YouTube clip from someone right behind home plate, have you seen it?
Bruce:
I've seen that. That's pretty surreal. It's cool they got it and they were sitting there to see it.
CBS:
I think they even called it.
Bruce:
I've talked to a bunch of people who say they've called it.
CBS:
Did you?
Bruce:
No, I was just trying to hit the ball hard.
3. CBS:
When you talk about contracts like this, there are people who say you left money on the table, how do your react to that?
Bruce:
You know what? It's not a true statement because you don't know what you're going to put on the table or take off the table. I plan on leaving money on the table, I plan on outperforming this contract, because that would probably mean I'm playing well and we're winning here in Cincinnati. I'll tell you what, yeah, OK, say I left money on the table, you're talking a ridiculous… it's an absurd amount. It's not bad what I took from the table. I plan on outperforming it, that's the best case for me, leaving money on the table. I'll make it up in the long run and it's not a big deal. The money took care of itself, the money's going to be there. It's just a blast.
CBS:
It's kinda stupid seeing those kind of numbers…
Bruce:
It is; it doesn't feel real. I'm going to take it a day at a time and enjoy it. There's a lot of doors that will open from that.
CBS:
Have you splurged on anything yet?
Bruce:
No. I have everything I need.
CBS:
What do you drive?
Bruce:
I have a truck and a [BMW] 7 series. I keep my truck at home and I take my 7 series through the season.
CBS:
That's nice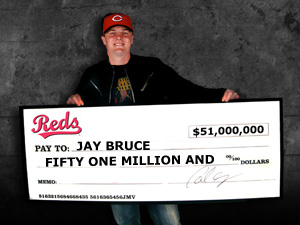 Bruce:
Absolutely. People think I'm getting this big $51 million check, like Happy Gilmore. It's not how it is. There's some planning that goes into that. You still have to be a normal person, you can't get too ahead of yourself. If I tend to this money correctly, as I know I will, there won't be any worries for me and my family for the rest of my life.
4. CBS:
This game has a way of humbling you, so I guess that's not too tough. You can look at the
Phillies
, who swept you guys last year, and you add
Cliff Lee
. What does that make you think when you saw that?
Bruce:
That's four legitimate aces they have over there. But to be the best, you have to beat the best. We're going to go out there and play those guys like we've always played them. We can beat them, we didn't last year, and we have to prove that to people. I'm obviously a huge believer that we can. I'm not worried about it.
5. CBS:
One last thing, I know you and Joey [Votto] always competed with numbers throughout the minors, do you still do that?
Bruce:
Absolutely. Joey, he's been tremendous, obviously. I think there's always been a sense of competitiveness between us -- that's just us and people on this team. But yes, I aspire to be the hitter Joey is -- who doesn't? He's the MVP of the league. Joey's done such a great job with all aspects of this game and his life, to go through what he's gone through and be where he is, is truly amazing. I consider Joey one of my better friends. It's really excited to have gotten to watch him.
Bonus question:
Another reporter asked Bruce about MVP
Joey Votto
's desire to stay long-term, and Votto's comments earlier this month about not thinking about a long-term contract with the Reds or anybody. Here's what Bruce had to say: "I think people are construing it a little differently than it really is. Joey doesn't want to leave here. He told me last night, I don't what to go anywhere, I love Cincinnati and I want to be here. What people have to understand is Joey and I are in a different situation. He's almost four years older than me. Joey wants to be here. He doesn't want to go anywhere. For people to think he does is not the right thought."
-- C. Trent Rosecrans
For more baseball news, rumors and analysis, follow @cbssportsmlb on Twitter or subscribe to the RSS feed.