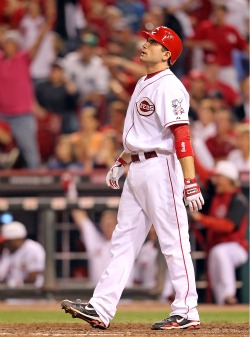 The
Reds
have agreed to a three-year deal with National League MVP
Joey Votto
worth $38 million,
MLB.com's Mark Sheldon reports
.
The Reds avoid arbitration with Votto, buying out all three years of his deal, but Votto doesn't give up any free agent years with the extension. The deal is pending a physical, which is expected to take place on Monday.
Votto, 27, led the National League in on-base percentage (.424) and slugging (.600), and was the overwhelming winner of the National League MVP, getting 31 of 32 first-place votes.
The Reds drafted Votto in the second round of the 2002 draft out of Canada and he made his debut in late 2007 before earning the starting first baseman's job in 2008, when he finished second in Rookie of the Year voting, behind
Cubs
catcher Geovony Soto.
Votto was arbitration-eligible for the first time this offseason and had been reluctant to discuss a long-term deal.
In December, Votto told reporters he couldn't fathom signing a 10-year deal like Colorado's
Troy Tulowitzki
.
"I don't know as far as beyond three years, I think it's a real unfair question to ask," Votto said (
via Sheldon
). "This is not me saying I don't want to be here. But last year was a difficult year for me. This year was a better year for me. It's really hard for me to think three years ahead, five years ahead, seven years ahead or 10 years ahead. When Tulowitzki signed that 10-year contract, I was blown away. I can't imagine seeing myself 10 years from now saying I want to be here. It's an overwhelming thing to ask a young person like myself and say, 'here's a lot of money, be happy with this over 10 years, deal with it.'"
Votto's new deal will buy out his arbitration-eligible years. As a first-year arbitration-eligible player, the three-year deal will not affect his free agent status, he'll still be a free agent following the 2013 season.
For the small-market Reds, they now have payroll certainty -- they know exactly what they'll be spending for one of the game's best young players of the next three years.
Arbitration numbers are due this week, and it's possible Votto could seek to equal or top
Ryan Howard
's record $10 million judgement. He will now average more than that over the next three seasons, but with another MVP-type season, Votto could ask for even more.
It's not without risk for Cincinnati -- the team is essentially banking on the fact Votto will improve from his breakout season in 2010, when he hit .324/.424/.600 with 37 home runs and 113 RBI. In 2009, Votto missed chunks of time dealing with depression and panic attacks following the sudden loss of his father. He also suffered with vertigo-like symptoms.
Cincinnati also locked up its other young talent,
Jay Bruce
, earlier this offseason. Bruce, who was arbitration-eligible as a "Super Two", signed a six-year deal worth $51 million to avoid arbitration.
The Reds, who haven't gone to arbitration with a player since 2004, have three arbitration-eligible players remaining, left-handed reliever
Bill Bray
and right-handed starters
Johnny Cueto
and
Edinson Volquez
.
-- C. Trent Rosecrans
For more baseball news, rumors and analysis, follow @cbssportsmlb on Twitter or subscribe to the RSS feed.