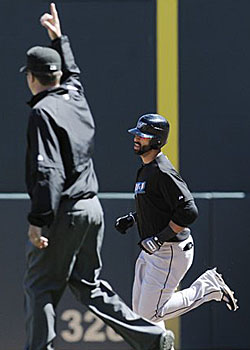 By Matt Snyder
Jose Bautista
entered Sunday leading the majors with 13 home runs, but apparently he wasn't content with simply leading the pack. So he went out and clubbed three more in an 11-3 rout of the
Twins
.
That's 16 homers on the season in just 113 at-bats. That's 16 homers in just 32 games. He's going yard once every 7.12 at-bats and once every 9.37 plate appearances.
The numbers, especially in these past two seasons where pitching has been king, are staggering. He is toying with the competition. Last season, Bautista hit 54 home runs, the next highest total was 42. This season, he's on pace to hit 65. I honestly don't even think it's outlandish to think he can make a run at 60, either.
You could argue he'll slow down, as it's only natural, but he's only been increasingly his home run frequency. You could argue he'll stop being pitched to, but he's not getting pitched to now, as he averages more than a walk per game and pitchers rarely work in the zone on him in any given at-bat. He's just waiting on one pitch and crushing it every chance he gets.
Bautista was great last year in a carry-over effort -- he hit 10 home runs in his last 26 games of 2009 -- but this year he's on a completely different level. Last year he only hit .260 with a .378 on-base percentage. This year he's over one hundred points higher in average and about 150 higher in OBP. He leads the majors in runs, walks, OBP, slugging percentage and OPS-plus (by quite a hefty margin, actually). He's putting up Barry Bonds numbers when everyone else has been dialed back to a league where 40-home run seasons are a huge deal again.
It's just a shame he missed a week of action earlier this month with an injury. The Jose Bautista Show is quite the spectator sport, after all.
For more baseball news, rumors and analysis, follow @cbssportsmlb on Twitter or subscribe to the RSS feed.