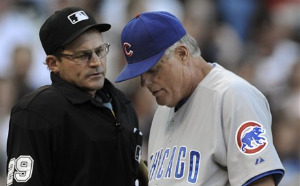 Lou Piniella ain't no quitter.
''I'm not a quitter,'' Piniella
declared
six times to Gordon Wittenmyer of the
Chicago Sun-Times
. As bad as the
Cubs
have been this year -- 37-47 and 10 1/2 games out of first -- the skipper will not bail on the season. For good or bad, he's helming the team for the rest of the year. And that's just fine with Sweet Lou.
"In this business, you'd better be prepared to take the bad with the good. Nobody wants the bad, but it happens."
Piniella also revealed that the Cubs will be his last managerial gig. His contract expires after the year, and it's not yet known if new owner Tom Ricketts will bring him back, although that possibility exists. He refused to speculate on his future, but admitted he was looking forward to retirement. Just don't accuse him of looking past his job.
"Look, I still care. I still want to win. I'd like to get this season turned around more than anything else and win as many games as we can and make it fun. Again, we'll see.''
Despite the Cubs not living up to expectations since Piniella arrived to town with high expectations, there are no regrets for the manager who won a World Series with Cincinnati in 1990.
''I'm looking at this as a unique experience, as enjoying the city and managing a franchise that's big-market and that has a big fan base and that's got its challenges to it,'' he said. ''So I'll look at this thing positively, there's no question. At the same time, nobody wants to lose, I can tell you that. ... I haven't been in this position in the three years I've been here. It's not easy. I just do the best I can. That's all I can do.''
Piniella also took a jab at Joe Torre, whom many consider to be a potential replacement for Piniella in town and who came out and said that he doesn't think Piniella is done managing in Chicago. After saying Torre was flat-out wrong about Chicago not being his last stop, he challenged Torre to come to town and see what it's like to skipper the Cubs.
''He can come here, and he'll find out that it's a little harder than what he thinks it is.''

-- Evan Brunell

For more baseball news, rumors and analysis, follow @cbssportsmlb on Twitter.