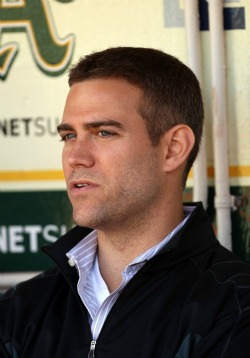 By Evan Brunell
The
Cubs
are expected to make Theo Epstein a member of its front office on Thursday,
ESPN Chicago reports
.
A news conference is expected on Friday to announce the hiring, with commissioner Bud Selig having given the team permission to announce the news during the World Series. Friday is a scheduled off-day as the teams travel to Texas.
"The two sides are on the five-yard line," a source told ESPN Chicago, noting that a package of Cubs prospects will be headed to Boston. None of the prospects will be Brett Jackson, Trey McNutt or Matt Szczur. Previous attempts at compensation had included Boston asking for ace
Matt Garza
and even having Chicago take
John Lackey
's contract. However, the Cubs appear to have negotiated the
Red Sox
down to a more sane level of compensation. Cash is not expected to be part of the transaction.
Speaking of Lackey, there's another connection he has to all this. Epstein is expected to be named president of the Cubs, so he will need to hire a GM. His focus has been trained on the
Padres
, where he is expected to pilfer current GM Jed Hoyer, allowing senior vice president of baseball operations Josh Byrnes to ascend to the role. (ESPN Boston's Gordon Edes reported at 3 p.m. ET that the deal was done: Theo as president, Hoyer as GM, Byrnes replacing Hoyer in San Diego.)
The Padres will not ask compensation for Hoyer, largely because Padres CEO Jeff Moorad has long wanted Byrnes to GM again, having hired him to GM the
Diamondbacks
back when Moorad steered the Arizona ship. Byrnes was fired in July 2010 after originally being hired by Moorad in 2005. Cubs owner Tom Ricketts also close with Byrnes' brother in a bond business, and both Moorad and Ricketts are friends. Perhaps this is why Hoyer would leave a situation in which he would appear to have more control -- if Byrnes has an influential voice and the ear of Moorad, Hoyer's voice in San Diego may not be as powerful as previously thought. In that regard, why not take a higher-profile job working under Epstein?
Throughout all this, a report by the
San Diego Union-Tribune
says that the Padres have discussed internally whether or not to acquire Lackey in a trade.
The Padres would need Boston to eat most of what is remaining on Lackey's deal. He originally signed a five-year, $82.5 million deal that has three years to go. Lackey might be able to succeed in a weaker division, a friendlier home park and a manager in which Lackey is familiar with. Bud Black was the pitching coach for the
Angels
when Lackey came up, so all told, Lackey may be able to turn his career around in San Diego. Boston might be motivated to eat much of Lackey's deal just to get him out of town, so this bears watching once Byrnes takes over in San Diego.
Incoming Red Sox GM Ben Cherington says he has yet to hear anything, and any reports are "premature. Haven't heard anything this morning," he told the
Boston Globe
.
Catch up on all the Theo Epstein to Cubs madness here.
For more baseball news, rumors and analysis, follow @EyeonBaseball on Twitter or subscribe to the RSS feed.