By C. Trent Rosecrans
MILWAUKEE -- Cardinals stareter Jaime Garcia was on the ropes in the first inning of Game 1 of the NLCS, but survived thanks to Brewers shortstop Yuniesky Betancourt. Milwaukee took a 2-1 lead over the Cardinals in the first inning of Game 1 on a Ryan Braun homer -- but thanks to the bottom of the Brewers lineup, the damage was limited, as the Cardinals left-hander got out of the inning without further damage, even though he threw just two pitches in the strike zone of the 13 pitches he threw in the inning after the home run.
With Jerry Hairston Jr. on first after a walk, Braun crushed a ball to left-center that traveled an estimated 463 feet. Garcia then hit Prince Fielder with his next pitch, causing home plate umpire Gary Darling to warn both benches. The St. Louis lefty then walked Rickie Weeks on four pitches -- but that could have been strategy to get to Betancourt. With Lance Lynn already warming up in the bullpen for St. Louis, Betancourt took the first pitch for a ball before he swung at five consecutive pitches out of the zone, fouling off the first four before swinging at change up that was high and wide for the second out of the inning.
Here's a look at Betancourt's at-bat from MLB.com's iPad app: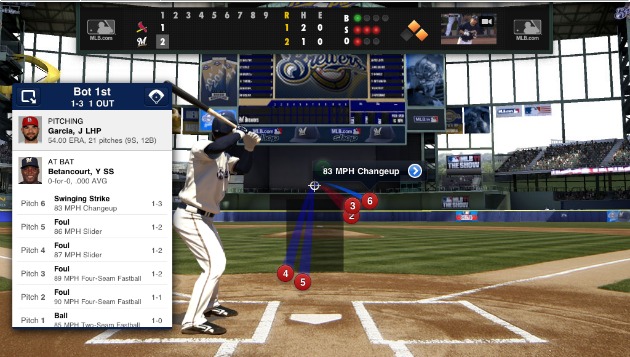 Carlos Gomez followed by doing his best Betancourt impression, taking a ball and then fouling off two pitches out of the zone before fouling off an honest-to-God strike. He then struck out swinging at another pitch in the zone to end the inning.
Milwaukee had a chance to not only get to Garcia and build a lead, but also make a dent in the Cardinals' bullpen in the first game of the series, running up pitch counts. Instead, Betancourt let them off the hook.

More Eye On Baseball NLCS coverage
For more baseball news, rumors and analysis, follow @cbssportsmlb on Twitter or subscribe to the RSS feed.