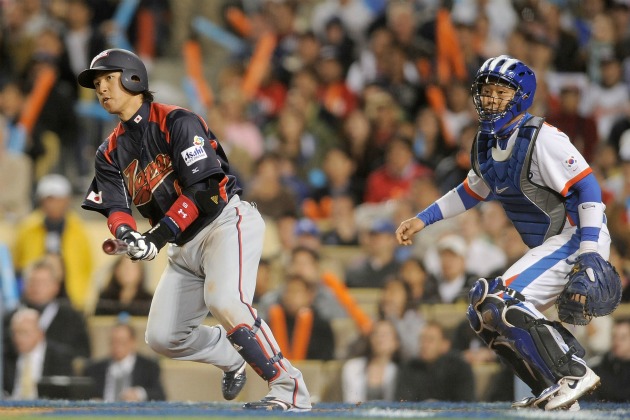 By C. Trent Rosecrans
The Seibu Lions of Japan's Pacific League have agreed to post shortstop Hiroyuki Nakajima, Ken Rosenthal of FoxSports.com tweets.
Nakajima asked to be posted last offseason, but the team denied his request.
The 29-year-old hit .297/.354/.433 with 16 home runs and 27 doubles in 2011. The right-handed hitter hit .364/.500/.545 in seven games in the 2009 World Baseball Classic, including a 2-for-5 performance with two doubles and two RBI in Japan's 9-4 victory over the United States in the semifinals.
While Nakajima is a shortstop in Japan, most of the Japanese shortstops to come to the United States have switched positions to either second base or third base. Last season the Twins signed Tsuyoshi Nishioka, fresh off of a batting title and Gold Glove in Japan, for a $5 million posting fee and a contract worth $9 million over three years. Nishioki hit just .226/.278/.249 in 68 games for the Twins last season, starting 59 games at shortstop. He suffered a broken fibula in April, missing most of the season. The Twins have agreed to sign Jamey Carroll this week, hoping to play him every day at shortstop, moving Nishioka to second.
Nakajima has a longer track record (meaning he's older) than Nishioka, but also has more power.

Check out CBSSports.com's Free Agnet Tracker.
For more baseball news, rumors and analysis, follow @eyeonbaseball on Twitter or subscribe to the RSS feed.