Now that the non-waiver trading deadline is past, it's time to take a look back at the winners and losers. While players aren't done switching teams and plenty more will find new zip codes on their mailing addresses in August via the waiver process, it becomes far harder to pull trades off.
Grades are relative to the team's window of contention, goals at the deadline and outcome -- not to other teams.
Angels
: L.A. imported
Alberto Callaspo
from the
Royals
to plug the dike that was the third-base gaping hole, then absolutely pilfered
Dan Haren
away from the
Diamondbacks
. They promptly lost
Joel Pineiro
to injury, but do have a greater chance at competing this season, even as the
Rangers
improved themselves. For 2011 and 2012, they kept themselves right in contention to be division champions. With money coming off the books the next season and two, they should be players in free agency and now can trumpet Haren as a front-line pitcher for free agents to play with.
Grade: B+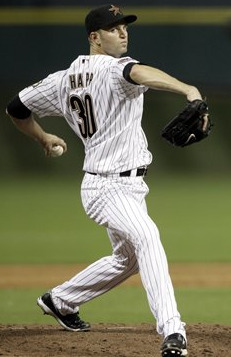 Astros
: The Astros did well in the idea of trading away
Lance Berkman
and
Roy Oswalt
to begin the trading process. The return for Oswalt from Philadelphia met with a few raised eyebrows. The team is high on
J.A. Happ
(pictured, left) even though no one else is. The deal was salvaged by flipping Anthony Gose from
Brett Wallace
. The Lance Berkman trade was tough to swallow. They traded a face of the franchise to the
Yankees
, picking up salary along the way for retread prospects. This was a deal strictly about money, not about helping the team -- although it did free up a spot for Wallace.
Grade: C+
Athletics
: The Billy Beane-led A's did nothing at the deadline, which wasn't the wrong choice. Texas and Los Angeles made too many steps to outpace a team that was going to have a hard time keeping pace anyways. What didn't make sense was their adamant position that they wanted to keep
Ben Sheets
and not trade him. But whoops -- a torn flexor tendon that knocks Sheets out for about a year and causes $10 million to go down the drain in Oakland happened.
Grade: D
Blue Jays
: Toronto had to give up intriguing prospects Tim Collins and Tyler Pastornicky to ship out
Alex Gonzalez
to the
Braves
, but got back young shortstop
Yunel Escobar
and pitching depth in Jo-Jo Reyes. Gonzalez was a great flier for the rebuilding Jays rather than the short-term Gonzalez -- There's tons of upside with Yunel. Demerits are assessed by a reportedly high price to trade
Jason Frasor
,
Kevin Gregg
or
Scott Downs
. None of them will help Toronto contend anytime soon, and the fact that Jesus Montero and Casey Kelly were prices for Downs is outrageous. They should have done everything they could to move Frasor, and probably could have gotten nice value for Gregg. The only defensible non-trade is Downs, who probably will be a Type-A free agent.
Grade: C+
Braves: The Braves made moves for this year, but severely damaged their long-term chances in the process. Selling Yunel Escobar off for Gonzalez, Collins and Pastornicky was questionable enough, but then turned Collins, fungible reliever
Jesse Chavez
and outfielder
Gregor Blanco
. Huh?
Grade: C-
... and it's not a D because they did at least improve their chances this year.
Brewers
: The Brewers did nothing except try to improve their pitching and determine whether it was time to trade
Prince Fielder
or not. Fielder is likely a goner in the offseason or next season's trade deadline, but there's nothing wrong with hanging onto him. There wasn't much Milwaukee was in a position to do.
Jim Edmonds
reportedly didn't want to ship out, and past that they didn't have much in the way of valuable trade chips.
Grade: N/A
Cardinals
: The Cardinals
brought in
Jake Westbrook
. That was good. They traded
Ryan Ludwick
. Not so good. There are hints that the Ludwick dealing was financially motivated to keep
Albert Pujols
in town. That's well and good, but Ludwick-to-Westbrook is largely a lateral move, even factoring in more playing time for
Colby Rasmus
.
Grade: C
Cubs
: It's tough to begin a rebuilding process once again, but
Ted Lilly
was a free agent so there was no overwhelming reason to keep him.
Ryan Theriot
has become punchless at the plate, and they upgrade with
Blake DeWitt
from the
Dodgers
anyways. Kyle Smit and Brett Wallach -- two young, minor-league pitchers -- are decent arms. They tried to deal
Derrek Lee
, but Lee nixed it with his no-trade clause. Can't penalize GM Jim Hendry for that.
Grade: B-
Diamondbacks: The Dan Haren trade was odd, no two ways about it. Yes,
Joe Saunders
won quite a few games in Los Angeles, but so what? He's a No. 4 starter who has a shot at being a No. 3 by virtue of being in the NL, but that's about it. The prospects acquired were underwhelming, although the expected acquisition of Tyler Skaggs will soothe jilted D-Backs fans somewhat. Snyder was a pure cash dump -- but not indefensible. If the team's not contending, why pay a backup catcher millions? Even without receiving anyone of true value, except perhaps
D.J. Carrasco
, it was high time for Arizona to move on from Snyder. They won out on
Edwin Jackson
big time, shedding salary for an underperforming starter and getting a young, cost-controllable starter (
Daniel Hudson
) along with prospect David Holmberg.
Dodgers: The Dodgers
gave up quite a bit
for
Octavio Dotel
, even if Dotel is cost-controllable through 2011 on a team option. That trade may come back to bite them hard, even if they needed Dotel to challenge for the division. The Ted Lilly acquisition was nice, and if you concede that Blake DeWitt was the price for Lilly, then Ryan Theriot wasn't a bad grab either. They definitely put the pieces together to contend, but is it too little, too late?
Grade: C+
Giants
: San Francisco tried to bring in a bat. They really did. They tried for
Adam Dunn
,
David DeJesus
(and if he hadn't gotten hurt for K.C., might be in San Fran right now),
Scott Podsednik
... but nothing came together. They instead settled for two middle relievers:
Ramon Ramirez
and
Javier Lopez
. Giving up John Bowker and Joe Martinez for Lopez is a curious move, even if they have strong outfield depth.
Jonathan Sanchez
was a popular name in talks for a bat, but S.F. was understandably leery of dealing the lefty. The Ramirez trade cost them an average middle relief prospect. They'll continue mixing-and-matching on offense, and the bullpen is definitely better off for the adds.
Grade: B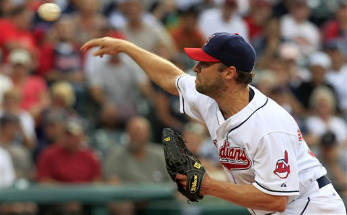 Indians
: The Indians wanted to get rid of people they didn't want and had no need for. The millions they saved in shipping
Kerry Wood
and
Austin Kearns
off -- even without getting any players of consequence in return -- were worth it. Westbrook (pictured, right) finally was shipped out as well, and while prospect Corey Kluber isn't an exciting name, he's enough of an intriguing player that the Indians clearly came out ahead in this season's trade deadline, which was all about shedding irrelevant pieces. Would have been nice for a rebuilding team to get a good prospect, though.
Grade: B
Mariners
: The Mariners dealt
Cliff Lee
to get Justin Smoak and a bevy of prospects. That was a solid deal, even if Smoak has
just been demoted
to Triple-A. That was it, however. While Seattle is in a different place than most rebuilding clubs because they are contenders just struggling through an awful season (advice to GM Jack Zduriencik: bring in some bats next year for a change). Still, it's surprising they weren't more active. The reason Russ Branyan was acquired and then not flipped is... heck, I don't know.
Grade: C
Marlins
: The Marlins shipped off
Jorge Cantu
, who was playing third base. That temporary lack of depth at third hurts, although
Chris Coghlan
will man the hot corner once he returns from injury. It was nice to see the Marlins bring in
Will Ohman
to contribute out of the bullpen, however. Florida was in a tough place: a team good enough to contend, but not quite good enough to be true buyers. They essentially held serve here while saving a bit of money and importing Evan Reed from the Cantu trade, who has a chance to develop into a nice arm.
Grade: B-
Mets
: The Mets did nothing here, even though they would have loved to get rid of
Luis Castillo
,
Oliver Perez
and Jeff Francouer. No one was having any of it, though, and New York was adamant in not trading its top prospects. You can argue they should have loosened the purse strings a bit to bring in someone, but there was no one overwhelming that made sense for a team slipping out of the division race. A middle-of-the-rotation starter would have been a lateral move, while only a major hitter could have been considered an upgrade -- and then you're back to having to deal top prospects. One problem: their window of contention is now.
Grade: C-
Nationals
: The Nationals
failed
to trade Adam Dunn. There is zero reason why they shouldn't have.
Grade: F
Orioles
: The Orioles are once again a team with no plan, trading away reliever Will Ohman for a fringe major-league reliever. For a squad headed to one of the worst finishes in team history, why exactly they weren't more aggressive sellers is baffling.
Ty Wigginton
is still on this team... why? The one saving grace is shipping
Miguel Tejada
off for Wynn Pelzer, who might turn into quite a relief arm.
Grade: D+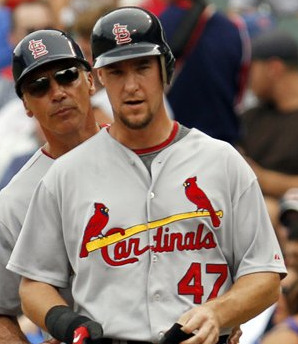 Padres
: I think this Jed Hoyer guy is going to end up a nice GM. The Miguel Tejada trade was OK -- nothing special, but didn't exactly cost much either and the Padres had a real need for someone with decent pop who can play the infield. The Ryan Ludwick (pictured, right) trade was incredible -- he immediately becomes the team's second-best hitter, trading away no one of consequence.
Grade: B+
Phillies
: The Phillies gave up J.A. Happ and two far-away prospects for Roy Oswalt, emphatically closing the book on the idiotic idea to trade Cliff Lee in the offseason. It would have been nice if they could have imported a utility player like Ty Wigginton or
Willie Bloomquist
for the stretch run, as
Chase Utley
isn't exactly on the verge of returning and the depth on the bench is thin. However, after the initial trade for Lee and later the Oswalt deal, the Phillies are near tapped out on money and prospects. Bottom line: they did what they could.
Grade: B+
Pirates
: The Bucs were quiet then exploded in a frenzy, acquiring
Chris Snyder
in a buy-low move that saw them give up absolutely
no one of consequence
.
Ryan Church
is a backup outfielder, D.J. Carrasco is a solid middle reliever and not much else and backup infielder
Bobby Crosby
. If he plays full-time, Snyder has a real chance to reclaim the value that made Arizona sign him to a contract extension in the first place -- which 'Zona will help pay. Pittsburgh then shipped out a lefty reliever best used against just lefties for a swingman in Joe Martinez and a solid outfielder who can give them years of cheap production, even if he never morphs into a starting regular. The Octavio Dotel trade to L.A was
sublime
, getting a viable starter who could end up a strong reliever and one of the Dodgers' best prospects in Andrew Lambo.
Grade: A
Rangers: Boy howdy, was Texas busy. They bit the bullet to bring in Cliff Lee, which instantly made it viable World Series contenders, then continued to supplement with Jorge Cantu and
Cristian Guzman
. Obviously, the Rangers are going for it this year and it's hard to fault them when they have such a strong team. It hurts to lose Smoak, but there are questions about his long-term success anyways, and first-base is not exactly impossible a void to fill. Cantu and Guzman cost them a few average prospects, ones that can easily be mortgaged for a chance like this to win a ring.
Grade: A
Rays
: Tampa Bay brought in a reliever with an ERA over 8, and that was it. (Okay, so
Chad Qualls
has a c
hance to be a solid reliever
for the team.) The team desperately needs a thumper, although
Matt Joyce
is currently making everyone smile since being recalled from Triple-A. Tampa is in an interesting position: able to take on payroll for a playoff push, but which is slashing payroll to around $60 million next year. Adam Dunn would have been a great fit, but Tampa can't concede future seasons just for one "win-now" year -- that would be irresponsible.
Grade: C+
Red Sox
: The Red Sox were largely quiet until the very end, when they shipped off Ramon Ramirez to San Francisco for an average middle-relief prospect. This trade was more about opening space for intriguing names at Triple-A. The team
then struck
for Jarrod Saltalamacchia, long coveted by the team, for an average first-base prospect and intriguing, but raw, Class A arm. They were unable to make anything come together to supplement the major-league roster, but figure to be active in waiver trading. For a team falling out of the race, besieged by injuries, it was probably prudent not to do anything drastic and instead build until next year while integrating its returning players and seeing who pops up in August.
Grade: C
Reds
: Cincy is in the hunt for the division but may have benefited by seeing the Cardinals trade away Ryan Ludwick. They have Aroldis Chapman presumably coming up to help the bullpen shortly and no overwhelming holes. Making a trade would have smacked of making a deal for deal's sake. It would not be surprising to learn that they shot high with their targets and couldn't make anything come together. They could stand to add a middle reliever, but also have
Aaron Harang
and
Homer Bailey
on the recovery trail. Staying pat was probably smart.
Grade: B
Rockies
: The Rockies couldn't make anything happen despite a team falling out of the race which had a really good shot at the division. They couldn't trade
Brad Hawpe
with
Todd Helton
's struggles. When
Troy Tulowitzki
went on the disabled list two months ago, it was very disappointing that Colorado decided to stand pat and see how the team played without Tulowitzki to determine whether to be buyers or sellers. They were already planning to buy to help the team with Tulowitzki, so it should be no surprise Colorado found itself out of the race. They should have done more.
Grade: D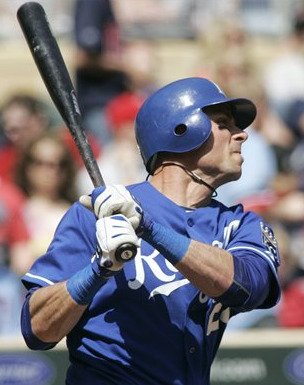 Royals: It's not often there are good things to say about the Royals, but there's a time for everything. Kansas City did fantastic in shedding
Rick Ankiel
(pictured, left) and
Kyle Farnsworth
to Atlanta. Farns is a strong middle reliever, but that's all he is while Ankiel was blocking other players with a better impact at helping K.C. contend in 2012. The return for Callaspo wasn't terrible, but not great.
Grade: B-
Tigers
: Detroit had far too many holes to do much of anything. They lost
Magglio Ordonez
,
Carlos Guillen
and
Brandon Inge
all to the disabled list in a short span of time. They bought low on
Jhonny Peralta
who hammered two home-runs in his Tiger debut. You would have liked to see the Tigers be a bit more aggressive with the AL Central division crown available, but it's hard to blame them for holding onto their major prospects. There is no silver bullet available to make up for all the losses.
Grade: C
+
Twins
: The Twins really love saves, as they traded one of the best prospects in Wilson Ramos for
Matt Capps
of Washington. Take the saves out, and Capps is an approaching-overpriced solid middle reliever. Even though Ramos had lost his luster somewhat, it's still a confusing move. They didn't get the starting pitcher they coveted either.
Grade: D
White Sox
: The ChiSox did everything they could and more to bring in Adam Dunn, but refused to sacrifice their future in
Gordon Beckham
. They acquired Edwin Jackson for Daniel Hudson and a minor leaguer, perhaps hoping to flip Jackson to the Nationals. That's a no-go, so while the White Sox did technically upgrade their rotation, it's unclear whether they would have done so if they knew they wouldn't get Dunn. Plus, Jackson makes $8.35 million next year.
Grade: C
Yankees: The Bronx Bombers
wielded their financial might
to bring in Lance Berkman, Austin Kearns and Kerry Wood at minimal cost. Berkman has the most chance to make an impact, taking on the role the Yankees thought
Nick Johnson
would. Kearns and Wood are supplemental pieces to the bench and bullpen, respectively, and won't be a huge loss if they don't work out. Overall, they gave up next-to-nothing in talent and cash they could burn anyways. The team made an aggressive push for Cliff Lee, but fell apart. In a market with no other clear upgrade than Lee, the Yankees decided to play it safe and keep their minor-league chips.
Grade: B
-- Evan Brunell

For more baseball news, rumors and analysis, follow @cbssportsmlb on Twitter.