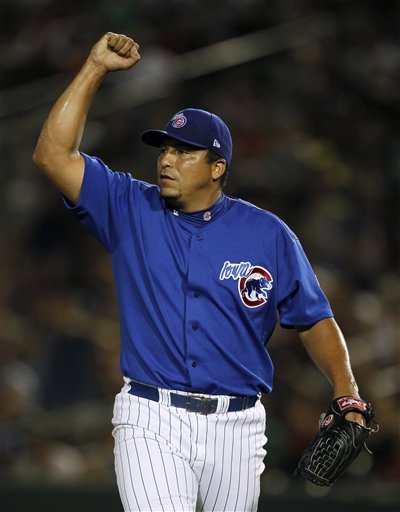 Carlos Zambrano
apologized again on Tuesday, and once again it wasn't to his teammates.
Instead, Zambrano t
alked to MLB.com's Carrie Muskat
and said he was waiting to apologize to his teammates when he joins the team -- and that he'd wanted to do so sooner if he'd been allowed.
"I'm a person and a human, and I know when I make a mistake. I have to come to the team and apologize," Zambrano said. "I'm not going to [apologize] because [the
Cubs
] said I have to do it. I'm going to do it from my heart. I want to be clear and at peace with my teammates."
Zambrano told Muskat that he wanted to apologize to his teammates immediately after he blew up at U.S. Cellular Field on June 25, but was told to stay away by the team.
Last night he went to ESPN
and apologized for his actions. He did that, he said, because he was frustrated he couldn't do it in person.
"I wanted to do this way before this time," Zambrano said. "I wanted to come to the clubhouse and apologize and talk to my teammates."
If that's true, why didn't he stick to the initial plan of not talking to the media before his return to Chicago. Why go on ESPN and apologize before he could do it in person. And if he'd texted and called
Derrek Lee
, why couldn't he approach his other teammates in the same fashion?
I don't doubt there's some sincerity in what Zambrano has now said in two interviews, it just seems that his actions are steps in the wrong direction. Ultimately, it won't mean anything when Zambrano is back without he Cubs and collecting big paychecks while underachieving, it s just odd that the whole thing has been handled this poorly.
-- C. Trent Rosecrans

For more baseball news, rumors and analysis, follow @cbssportsmlb on Twitter.