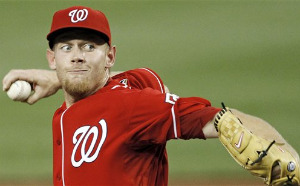 Should
Stephen Strasburg
be an All-Star?
Sure, the odds are high he'll rip off a streak of All-Star appearances down the road, but the question has to do with this year.
The argument for including him is strong. Even though he's made just three starts, what starts they have been. Over 19 1/3 innings, he has an ERA of 1.86. He's walked five -- all coming in his second start where he struggled with Cleveland's mound -- and 32 punchouts. Every time he takes the hill, the baseball world is abuzz and his stuff is as electric as anyone's. Yes, even including
Ubaldo Jimenez
.
Yet, there is a good chance he won't make the team. He simply doesn't have the body of work to make a case. With three starts, he's light years behind baseball's season high of 15 starts, which 11 pitchers.
By the time the All-Star break rolls around, he will likely have five additional starts to his name, giving him eight on the year, which will still be about half the amount a full-season starter will have. Is he really deserving of a spot ahead of one of those pitchers?
And yet, there's no denying the pizzazz Strasburg would bring to the team. The All-Star Game is for the fans, and with no disrespect to
Jon Garland
, who has 15 starts and a 2.87 ERA, fans want Strasburg. Watching him take on the likes of
Justin Morneau
,
Evan Longoria
and
Ichiro Suzuki
would be exciting theater.
Nationals
GM Mike Rizzo wouldn't shy away from a Strasburg selection,
reports
MLB.com.
"Whatever they would need him to do, we would make sure that he does it because it's an honor to play in it, it's an honor to be asked," Rizzo said. "If [
Phillies
manager] Charlie Manuel or MLB feels he is one of the best players in the league and he should be on the All-Star team, he would earn it and deserves it. I would embrace it."
And best of all, Strasburg's schedule, in which he pitches every five days -- not five games -- lines him up perfectly to pitch in the All-Star game.
He's slated to host the
Royals
June 23, visit Atlanta June 28, return home to face the
Mets
on July 3 and go into the break with a July 8 matchup with San Diego. The All-Star Game falls on July 13, exactly five days after his last projected start. Following the All-Star break, he will start receiving additional days off.
For the fans, Manuel and baseball should select Strasburg. Only time will tell.
UPDATE
: Manager Jim Riggleman said Strasburg will pitch on one day's extra rest in his final start before the All-Star break,
according to
Ben Goessling of MASN. That slates him for July 9 against the
Giants
instead of the 8th against the
Padres
. It also means if he is selected to the All-Star Game and pitches, he would do so on four days rest.
-- Evan Brunell

For more baseball news, rumors and analysis, follow @cbssportsmlb on Twitter.