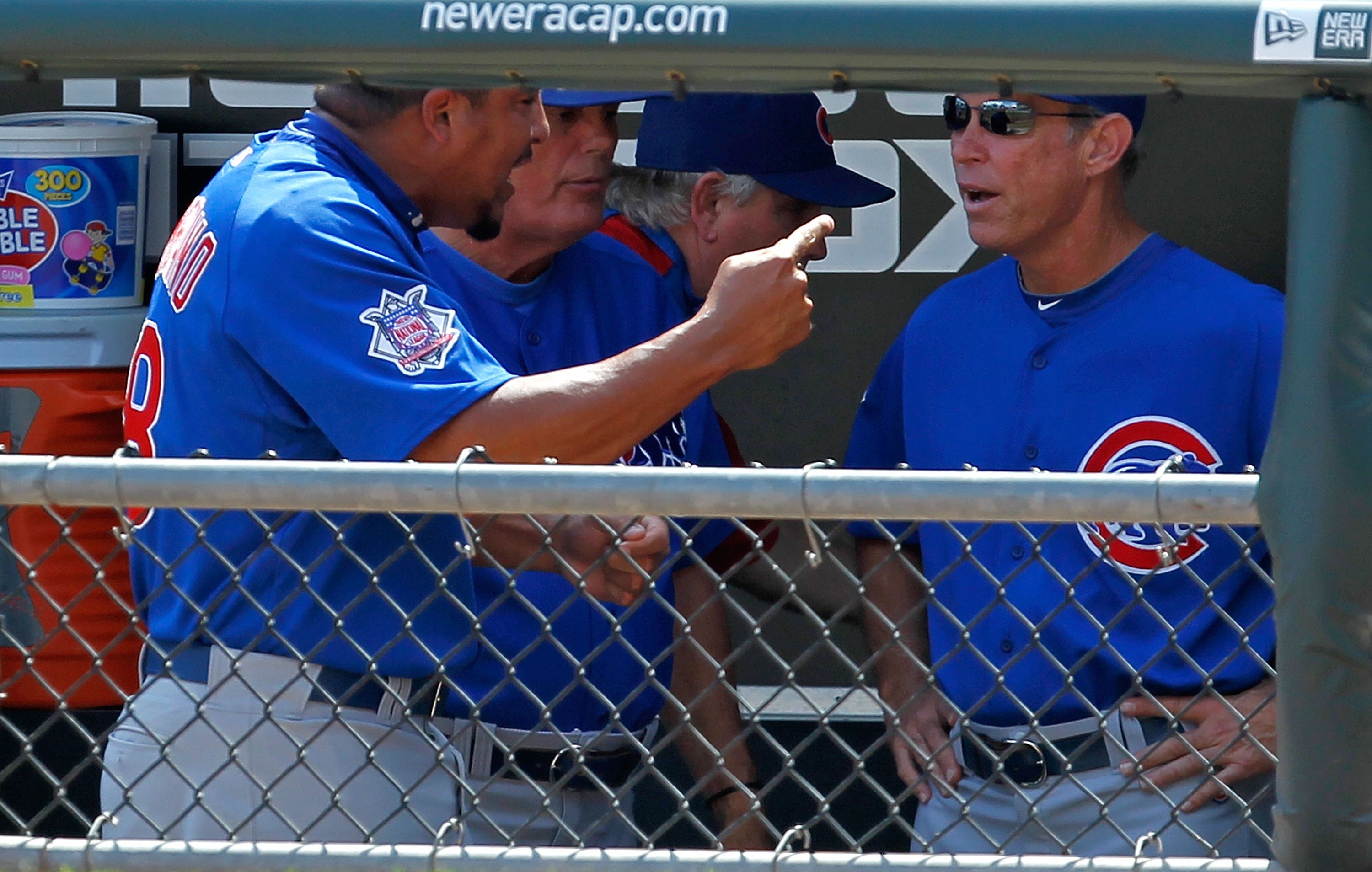 Another day, another day full of
Carlos Zambrano
drama.
The short history for you if you've missed it all: Zambrano stunk against the
White Sox
, continued his tired baby act in the dugout, was pulled from the game, got in a screaming match with
Derrek Lee
, got sent to the clubhouse, then sent home, was suspended indefinitely by the team, ruffled feathers by going out to dinner with White Sox manager Ozzie Guillen that night and then manager Lou Piniella said if the
Cubs
re-instate Zambrano, he'll be headed to the bullpen. And that's as short as I can make the roundup.
So, what's up today? First off, Major League Baseball and the Players Association are expected to meet today about the suspension.
"It's really kind of a day or two away from knowing any more than that," general manager Jim Hendry
tells the Chicago Tribune 's Paul Sullivan
.
The Cubs would like to replace Zambrano on the roster, but are now playing with 24 men until the Zambrano situation is resolved.
Secondly, Piniella said nobody in team management has talked to Zambrano since Friday's outburst.
Thirdly, the
Chicago Sun-Times ' Gordon Wittenmyer has talked to a friend of Zambrano
who gives his side of the story.
Here's what Wittenmyer wrote:
And Zambrano already is calling his actions Friday ''completely misunderstood'' and blaming Derrek Lee for turning it into a big deal by confronting him during his ranting and raving after the White Sox' four-run first inning.
''All he wanted to do was pump the team up. It was completely misunderstood,'' a source close to Zambrano said, adding that Lee ''took it personal'' and told Zambrano to ''shut the f--- up.''
Yet team sources say Zambrano's rant -- much of which was in Spanish -- included yelling, ''This team is horse s----!''
That's when Lee is caught on camera intervening and telling Zambrano to shut up.
They had to be separated.
So, about Zambrano's version?
''That's not the way we see it,'' said Alfonso Soriano, who planned to call Zambrano on Saturday night. ''If he explains, maybe we can see it the way his friend sees it. But what he said wasn't right.''
As one Cub put it, ''Anybody who believes [Zambrano's version] must be smoking something.''
Asked if teammates could forgive Zambrano, Soriano said, ''I don't know.''
Wittenmyer also adds that pitcher
Carlos Silva
, in his first year with the club, is Zambrano's "only" friend on the club and the rest of the club is hoping Zambrano isn't a Cub much longer.
There's little doubt this story will end in typical Cub fashion -- neither well, nor soon.
-- C. Trent Rosecrans

For more baseball news, rumors and analysis, follow @cbssportsmlb on Twitter.