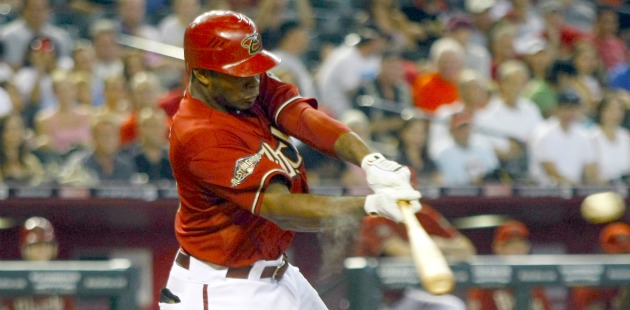 By Evan Brunell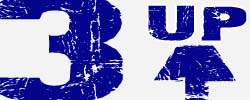 Justin Upton, Diamondbacks
: Justin Upton was a one-man wrecking crew on Sunday, going 4 for 4 with three RBI, two runs, a walk and stolen base as Arizona blanked the
Rockies
7-0. Oh, and this came on the backing of a double, triple and two singles. This is coming off a six-RBI game on Saturday, so the 23-year-old is scorching hot and has lifted his overall line to .301/.378/.526 on the season. He's clearly the linchpin of the Diamondbacks' offense, and any chance of Upton being traded has gone up in smoke. (Check out that picture above, where you can see what looks like wood dust coming off the bat. That's power.)
Madison Bumgarner, Giants
: Division rival
Chad Billingsley
actually had the more impressive pitching line on the night, but Bumgarner's 7 2/3 innings pitched with eight hits allowed, one earned run, zero walks and eight strikeouts is plenty enough to carry the day. This is part of a larger trend, as the lefty has whiffed 64 batters in his past 62 innings, ranging all the way back to June 1. He's only walked five batters in this time span with three home runs, so it's little surprise that his ERA has plummeted to 3.56 from 4.06 six starts ago.
David Wright, Mets
: The
Marlins
edged New York 5-4, but Wright was a star in the game, going 3 for 4 with two runs and RBI apiece. He added a double to his two-run home run in the seventh inning to send the Mets up 4-3. He's had two excellent games in the three games he's been back and has gone a combined 6-for-14, with four extra-base hits and six RBI. Not a bad return for the 28-year-old.
---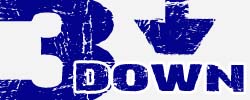 Gio Gonzalez, Athletics
: Gonzalez just didn't have it Sunday against the
Yankees
, getting knocked around for six runs in 4 2/3 innings. The lefty was touched up for seven hits and issued three free passes against just five strikeouts. Two starts ago, Gonzalez also gave up seven runs to the
Rangers
in just four innings, but only three were earned. Before Sunday, his worst start was all the way back on April 25, when he allowed four earned runs in five innings to the
Angels
.The 25-year-old has tossed 120 innings on the year, pacing for 199 2/3. This after throwing 200 innings last season in his first full turn in the rotation. At some point you have to take the gloves off, but is Gonzalez tiring?
Francisco Liriano, Twins
: Liriano being his old inconsistent self? Never woulda guessed. In blowups that are all too prone with the talented lefty, Liriano allowed four earned runs in 2 1/3 innings, allowing six hits and four walks while only striking out three. Yuck. The outing sent his ERA to 4.86. How inconsistent is Liriano? Consider his last six games, and I assure your, the pattern repeats itself: 2 1/3 IP 4 ER, 6 IP 1 ER, 7 IP 1 ER, 4 1/3 IP 5 ER, 7 IP 2 ER, 3 2/3 IP 5 ER.
Ubaldo Jimenez, Rockies
: In a game in which 20-plus scouts were in attendance, Ubaldo Jimenez gifted five earned runs in five innings -- his worst start since May 27. "It doesn't affect me," Jimenez told the Associated Press of the trade talk. "I know it's time for the rumors and there are going to be rumors. I will just try to go to the stadium and do my thing. Every time I try to get hitters out and what's going to happen is going to happen. You never know, but I am ready for whatever."
For more baseball news, rumors and analysis, follow @cbssportsmlb on Twitter or subscribe to the RSS feed.