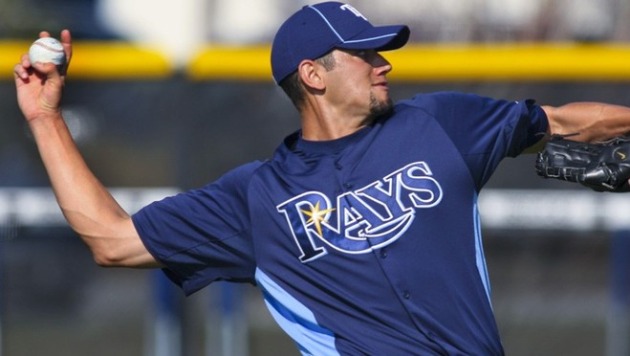 NEVER GONNA GIVE YOU UP: Dane De La Rosa's eventual destination of Port Charlotte took years to accomlpish, but the 28-year-old finally arrived after flaming out of the Yankees organization, selling real estate and playing independent baseball for four seasons.
"It's a great feel-good story," Rays director of minor-league operations Mitch Lukevics said of De La Rosa and his path back to relevancy that has him poised to follow in the footsteps of Scott Richmond and Robert Coello as ex-indy players who fight their way to the majors. But first, De La Rosa had some growing up to do.
"I felt like I belonged there, which is not the mindset you need to have when you're there," De La Rosa said of his time in New York in which he appeared in just 20 games over the 2003-04 season. "You need to be humbled. Going through all this has made me a humble person, so I don't regret it at all."
De La Rosa headed to independent baseball after the Yankees cut him, but he struggled to adjust and then took a year off to sell real estate. However, his dream wouldn't die and he couldn't handle knowing his baseball career was over, so he returned to the independent leagues. His play in 2007 got him a late-season pickup by the Brewers, but all he got was one two-inning stint at the rookie level before being released.
But after two more years in the independent leagues, De La Rosa finally caught the attention of the Rays, who brought him in for a workout. Tampa witnessed a 6-foot-5 righty with a fastball reaching 97-mph and immediately signed him.
"He was pounding fastballs, and we were thinking this is too good to be true," Lukevics said. De La Rosa would go on to split the year between high-Class A and Double-A, posting a 2.01 ERA in 76 innings and whiffing 80 while coughing up 26 walks. Now, he has a chance to win a bullpen spot in the major leagues after being placed on the 40-man roster, news that came just weeks after becoming engaged. That's a lesson in the art of perseverance.
"If Dane De La Rosa has taken this journey and now he's on the 40-man major-league roster and a heartbeat away from pitching in the big leagues," Lukevics said, "it tells every young man, every player they have a chance if they keep working." (Tampa Tribune, also source of photo)
PARTY TIME: Brian Wilson is sure one lucky guy. He was picked up in Arizona by none other than Charlie Sheen on a private jet and ferried to Sheen's house, where he hosted yet another party. This one was full of ballplayers watching movies and kicking back. (And yes, Sheen's iconic Major League was played, capping off the night.) Sources said the party was only "R-rated" instead of the debauchery that usually happens at the Sheen estate.
No word on whether Wilson's virtual doppleganger attended the festivities. (TMZ)
A ROSE BY ANY OTHER NAME: Pete Rose joined a fundraiser for a Legion team and had plenty of jokes to crack even as there was the requisite talk about Rose's gambling and Hall of Fame chances. "This is America. You're supposed to get second chances," Rose said. "I chose the wrong vice." Or maybe his second chance was frittered away when he lied about gambling? Anyways, cool anecdote: Rose would always leave four tickets per game for his father, who would move seats every time Rose didn't get a hit. One day when Rose went 0-for-4 and didn't hustle (imagine that) on a grounder to second, his father castigated him.
"He asked me, 'Did you run hard in your third at-bat with the runner on third?'" Rose relayed. "I thought about it and I realized I hadn't because I thought I should've gotten a hit, and I grounded out to second."
His father's response: "'Don't embarrass me in this town. You run until the umpire says safe or out.'" (Oroville Mercury-Register)
LONG TIME NO SEE: When the Pirates traded Jason Schmidt back in 2001, they were hoping the return would put them on the path to respectability. Instead, Armando Rios got hurt and Ryan Vogelsong posted a 6.00 ERA from 2001-06 after rocketing through the Giants' system. But now, Vogelsong is finally back in San Francisco after stints in Japan and Triple-A for the Phillies and Angels last season.
Before Vogelsong picked the Giants, the Dodgers came calling, but the righty stayed true to his roots. "I was like, I just can't wear Dodger blue," he said. (MLB.com)
PRIDE COMES BEFORE A FALL: Edgar Renteria isn't upset that the Giants declined his $10.5 miliion option (an obvious move, he says) but the resulting $1 million offer was disrespectful, he says. "I'm not going to play for anybody for $1 million," Renteria said. "I'd rather retire. That is why I say it [was disrespectful]. It's because I know what I can do in this game."
Renteria eventually signed for $2.1 million with the Reds. Meanwhile, if being offered $1 million is disrespectful, sign me up. (San Jose Mercury News)
REST IN PEACE: Cardinals co-owner Andrew Baur has passed away at the tender age of 66. He was a part of the 1996 purchase of the Cardinals by majority owner Bill DeWitt and was a member of the board of directors since the ownership change. Cause of death is not yet known. (FOX Sports Midwest)
LITERARY GENIUS: In Sunday's Morning Pepper, R.A. Dickey revealed he was writing a book about his major-league career. It's not often you hear of ballplayers who can write -- nevermind even read -- but add Burke Badenhop to that list. The Marlin relayed a story of the judge recognizing him when he served jury duty, but that was only the start of his offseason. He also got married, assisted a friend in writing a book about financial planning and is co-writing a movie script with his agent. But now, all he's concerned about is winning a bullpen spot. (Palm Beach Post)
DHING AIN'T EASY: DHs don't get a lot of respect in the league. Not only is it virtually impossible for them to get Hall of Fame or All-Star consideration, but many believe it's pretty easy to walk up to the plate four times a game, take your hacks and then warm the bench without having to play defense. Not so, and Adam Dunn is trying to figure out how to transition to a DH role. Fortunately, ex-White Sox players in Jim Thome and Harold Baines have some advice. (Chicago Tribune)
LESSON LEARNED: It couldn't have been easy for Mike Quade to step into Lou Piniella's shoes and then make the move of benching Starlin Castro for one game, but there you have it. The budding shortstop rode the pine for a mental lapse, and the Rookie of the Year candidate has said he learned his lesson from it. Quade, however, refuses to call it discipline, rather preferring to term it a "teaching moment" to get Castro a breather after breaking into the bigs amid much hoopla and starting on a regular basis. (Chicago Tribune)
-- Evan Brunell
For more baseball news, rumors and analysis, follow @cbssportsmlb on Twitter or subscribe to the RSS feed.