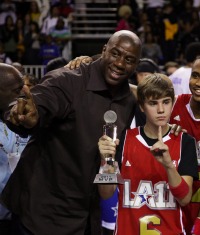 By C. Trent Rosecrans
Two of the most famous names in Los Angeles sports history -- O'Malley and Magic -- are reportedly interested in purchasing the Dodgers.
Peter O'Malley, who started this mess by selling the Dodgers to Fox in 1998, reportedly has two big investors lined up to buy the team and he'd run, according to David Vassegh of KLAC-AM. Vassegh cited a "prominent Dodgers executive" as the source.
The O'Malley family, of course, brought the Dodgers to Los Angeles following the 1957 season.
The other interested party may be former L.A. Laker Magic Johnson, who told SiriusXM hosts Steve Covino and Rich Davis that he might be interested (via the Los Angeles Times' Steve Dilbeck).
"You know, people here in L.A. want me to make a run for the Dodgers," Johnson said. "I will sit back and see what happens, and if somebody approaches me and wants a partner or wants me to be involved, I'll take a look at it. 'Cause I love baseball. And I love the Dodgers."
Last year Johnson raised nearly $100 million by selling his minority share in the Lakers and his Starbucks franchises. At the time, he was looking at joining a group trying to bring the NFL back to Los Angeles and told the Times he had no interest in buying the Dodgers.
With MLB running the team, expect more names to pop up, but these two names at least make good headlines.
For more baseball news, rumors and analysis, follow @cbssportsmlb on Twitter or subscribe to the RSS feed.