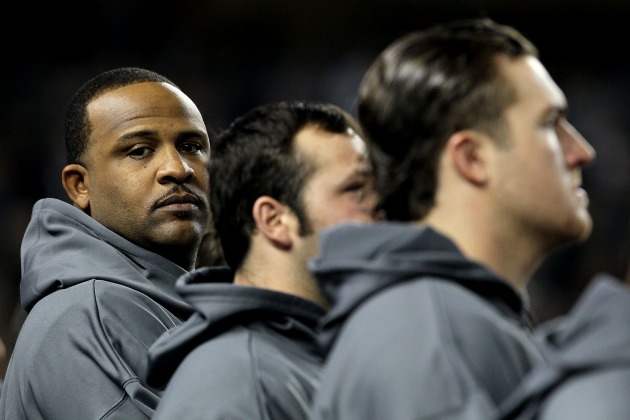 With spring training getting into full swing today, here's a look at notes from around baseball.
*
CC Sabathia
has always said in the past that he was absolutely, positively not going to exercise the opt-out clause in his contract after this season. Given the chance to rule it out again Monday morning, he "did some dancing around the issue and, for the first time, opened the door that he might deploy the opt-out,"
according to
the
New York Post.
Sabathia also came in noticeably lighter, saying he lost 25 pounds in the offseason because he wants to pitch another eight to 10 years. If he stays on his current deal, which runs through 2015, he'll be looking for a new contract at 36. If he opts out, he'll be trying to cash in on a long-term deal at 31. If nothing else, he can use the opt-out as leverage to get the
Yankees
to extend him past 2015.
*
Jayson Werth
showed up to
Nationals
camp
sporting
the mega-beard he had shaved off last year. The
Washington Post
noted
that
Ian Desmond
told Werth, "Your beard is strong." Werth's response: "Strong to quite strong, actually."
*
Red Sox
pitcher
Daisuke Matsuzaka
tells
WEEI.com he feels so good he thinks he can pitch more innings than his first season in 2007. Considering he threw 204 2/3 that year, that's saying something.
* Joe Girardi
told
reporters
Derek Jeter
will still lead off.
* The
Pirates
start camp one man down, as pitcher
Jose Ascanio
is
having trouble
getting out of Venezuela due to visa problems. Can't he just use his Amex?
-- David Andriesen
For more baseball news, rumors and analysis, follow @cbssportsmlb on Twitter or subscribe to the RSS feed.