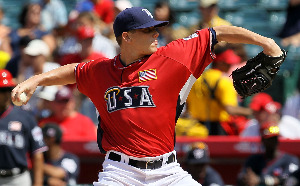 When the Tampa Bay
Rays
exorcised their previous years of futility with an AL pennant in 2008, they did so with the services of
David Price
in the bullpen.
The 2010 All-Star Game starter for the American League was a late-season addition to Tampa's bullpen. He was considered ready for the majors and with such quality stuff he could contribute out of the bullpen.
And contribute he did. He followed a
Francisco Rodriguez
-ian path through the playoffs, striking out
J.D. Drew
in Game 7 of the ALCS for one of the biggest moment's of the game.
Now, another young starter could be on the same path.
"Out of the bullpen, that's a possibility, and I would not be opposed to that at all. But eventually he's going to be one of the starters, there is no doubt. To get a taste, I think he could do it, and it would serve him well, and us," manager Joe Maddon told MLB.com not of Price in 2008, but Jeremy Hellickson in 2010.
"You saw he had a little taste of it in Spring Training," Maddon continued of the 23-year-old righty curerently laying waste to Triple-A. Hellickson has a 2.51 ERA in 20 starts, posting a 12-3 record. Even better, he's whiffed 119 batters in 114 2/3 innings, walking a scant 35.
The accolades don't stop. Maddon spoke about how well Hellickson handled himself in Spring Training, which leads him to believe Hellickson can succeed with the Rays out of the bullpen.
"He came out with guys all over the place and he got out of it [against the Yankees]," Maddon said. "Very casually in a sense, he was not offended by the moment or overwhelmed by the moment. You're going to see the same kind of approach from him."
The Rays are shopping for a starting pitcher or big bat at the deadline, but one thing Tampa will do everything in its power to do is to avoid having to deal Hellickson for one.
-- Evan Brunell
For more baseball news, rumors and analysis, follow @cbssportsmlb on Twitter.