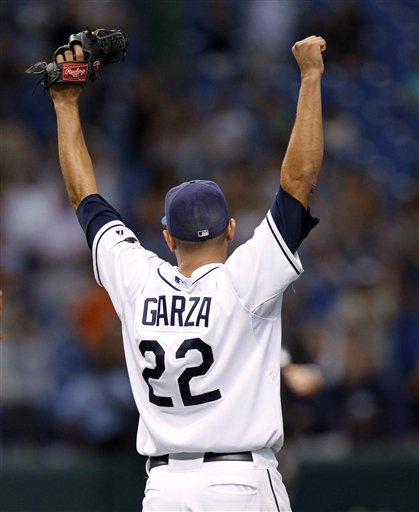 With my DVR all ready and fired up to watch Mad Men on Monday night, I had to tell the wife we couldn't watch it right then, instead I pickd up the iPad and watched the last two innings of
Matt Garza
's no-hitter with Don Draper paused in the background.
The no-hitter was the first in Tampa Bay
Rays
history and the fifth of this magical season of the pitcher. These things are special, unless you're Mike Freeman.
My colleague here at CBS Sports is bored by no-hitters and he's just not going to take it anymore
.
Apparently five is the threshold to mediocrity -- five of 1,487 games played so far this season have finished with a pitcher not allowing a hit to the opposing team. Yep, 0.3362 percent is just too darn much to feel goosebumps.
Those odds, roughly one in 300, is as common as the
Cubs
winning this year's World Series, according to one line. Anyone taking that bet?
Freeman write that it's "difficult to dispute that no-hitters are losing their uniqueness." Did he write this in 1991? That may have been the case after 14 no-hitters in two seasons, but then there was just one in 1992.
To say that the five so far this season are the start of a trend is to be short-sighted and ignore the cyclical nature of history. Following those 14 no-hitters in the first two seasons of the 90s, there were 14 no-hitters in the next seven seasons. Or that perhaps the five we've seen this season make up for only one no-hitter thrown between June 2003 and September 2006.
While he's ignoring history, Freeman writes, "mostly average pitchers (not all but mostly) are throwing so many this season."
The no-hitter has always been about the greatness of a pitcher on that one day, not the pitcher's overall greatness. It's a small sample size, nine innings in a career of thousands.
In baseball's history, there have been 268 recognized no-hitters, with just 50 of those thrown by Hall of Fame pitchers (18.7 percent). If you take out Nolan Ryan's seven no-hitters, it's only 16.5 percent. I'll even be kind and add Bert Blyleven, Randy Johnson (two no-hitters) and
Roy Halladay
as future Hall of Famers, that percentage goes up to just 19.8 percent. So in history, one out of five no-hitters is thrown by a future Hall of Famer.
This year, one no-hitter has been thrown by someone who has a good shot at Cooperstown (Halladay -- although it's too early to mention the C word either way with the 26-year old
Ubaldo Jimenez
.)
If you look at 1991, five of the seven no-hitters were thrown by just one pitcher. Of those, one was thrown by a future Hall of Famer, Ryan. The other four were by two pitchers with very good careers (Bret Saberhagen and Dennis Martinez), a rookie (Wilson Alverez) and a pitcher who would win 37 career games (Tommy Greene). How different is that from this year's class of Halladay, Jimenez, Garza,
Dallas Braden
and
Edwin Jackson
?
History shows pitchers such as Hod Eller, Tom Phoebus, Bob Moose, Ed Halicki, John Montesfusco, Juan Nieves and Bud Smith are as likely to toss a no-no as Walter Johnson, Christy Mathewson, Warren Spahn or Bob Gibson.
Those guys have no-hitters, heck, Steve Busby has two, as do Don Wilson, Bill Stoneman and Virgil Trucks, but Greg Maddux, Roger Clemens, Tom Glavine, Steve Carlton, Lefty Grove, Whitey Ford, Dizzy Dean, Mordecai Brown and Grover Cleveland Alexander didn't throw one.
The no-hitter is still unpredictable and takes a special mix of luck and skill. It is -- and always will be -- special, whether someone bothers to re-tweet the accomplishment or not. It's even enough to put off watching Joan Holloway -- and that's saying something.
-- C. Trent Rosecrans

For more baseball news, rumors and analysis, follow @cbssportsmlb on Twitter.