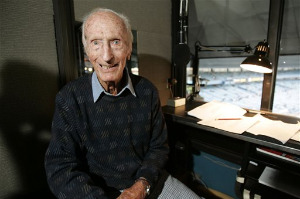 Bob Sheppard's voice was as much a part of the
Yankees
as pinstripes, and hearing it hum through Yankee Stadium was one of the great constants in the game.
Sheppard last worked in 2007, but word of his passing Sunday at age 99 left a sadness in the Yankees clubhouse. Some reactions, courtesy of the
North Jersey Record:

Derek Jeter
(who uses Sheppard's taped introduction before each at-bat): "I grew up a Yankee fan, and he was the voice I always heard. There were a few times, sprinkled in and out, when he wasn't there, and it didn't sound right. I had the idea to record his voice and to always use it."
Joe Girardi: "You realize you hit the big lights when Bob Sheppard announces your name. It's amazing when you heard his voice in person, because it was always like from up above. And when he'd come down to talk to you, it was a thrill."
Trainer Gene Monahan: "He was the most polite man I think I've ever met. He'd stop by every once in a while over the course of the season, maybe four or five times, and call me over and very politely ask, 'May I have…a few…lozenges?' That's the only thing he ever asked us for."
On a personal note, I'll never forget an exchange I had with Sheppard.
He was like J.D. Salinger. You never saw him, only heard him. One afternoon, hours before a game, I was doing some work in a nearly empty Yankee Stadium press box. I felt fingertips touch my shoulder and heard, "Excuse me." I immediately got a chill -- those two words were enough to know who was standing behind me.
He wanted to know how to pronounce
Yuniesky Betancourt
. He practiced it a couple of times, said thank you, and disappeared back into his booth.
-- David Andriesen
For more baseball news, rumors and analysis, follow @cbssportsmlb on Twitter.