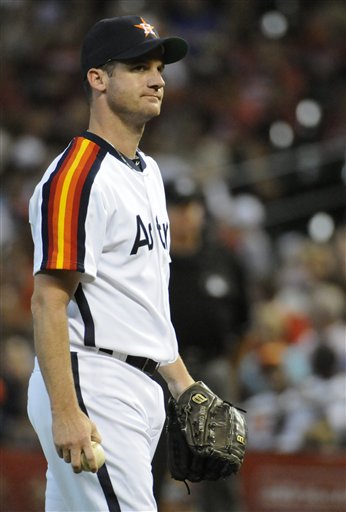 If you take most trade market musings from general managers with a grain of salt, this week keep a salt lick ready, because there's more bluffing this week than ever.
In that vein, here's a
report from the St. Louis Post-Dispatch 's Joe Strauss
that says the
Cardinals
are bowing out of the
Roy Oswalt
sweepstakes.
"At this point, it's entirely possible that there may not be a deal out there," Cardinals GM John Mozeliak said. "We're continuing to explore avenues, but as we speak I can't say I'm encouraged."
What may have been left out is Mozeliak starting that sentence with "awww shucks" while pawing at the ground with his foot, before finishing it by pushing up his hat and adding another offer.
As it stands, Mozeliak would be more encouraged if the
Astros
had any interest in taking
Brendan Ryan
off his hands in return for Oswalt, but for now, the Astros seem to think they can get more than a nice hosiery model for the three-time All-Star.
Oswalt, for his part, reportedly wants to be a Cardinal and the Cardinals want him. He'd certainly be better than
Jeff Suppan
or the wildly inconsistent
Kyle Lohse
. The Cardinals may believe Lohse is just as good of a gamble as any of the other starters on the market, such as
Jake Westbrook
,
Ted Lilly
or
Jeremy Guthrie
.
Lohse is scheduled to pitch tonight at Triple-A Memphis and hopes to join the team next month.
Brad Penny
, on the other hand, may not be able to return this season, Mozeliak said.
-- C. Trent Rosecrans
For more baseball news, rumors and analysis, follow @cbssportsmlb on Twitter.