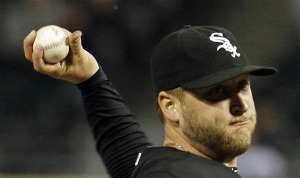 Could
Mark Buehrle
hang up his cleats after 2011?
"As I sit here now, I'd love to just go home and be with the family and kids and go from there," Buerhle
told the Chicago Tribune
. "I could play for another five years after next year when it comes down to it. But as I sit here now, I see myself going home."
That's rather odd talk coming from a 31-year-old primed for years of success ahead and still the ace of a contending ballclub.
Buehrle has been with the
White Sox
for 11 seasons, with only his first season not as a full-time member of the rotation or even big-league club. In the 10 other seasons, including 2010, he has pitched over 200 innings. Combine that with being a southpaw with impeccable control (2.1 career BB/9), and Buehrle fits the classic profile for longevity. But Buerhle has his family to think about.
"Some guys want to play until they can't and then they get kicked out, and other guys want to go home and be with families and do different things," Buehrle, who is completing the third year of a four-year, $56 million pact, said.
Buehrle was talking about himself in the latter description, but the first description was about
Paul Konerko
, who has no interest in retiring after a career season at age 34.
"I'm not saying bad on him," Buerhle clarified. "He's just not ready to hang it up."
Meanwhile, the lefty has thought about it before, even mentioning it as early as February 2009. Does that mean Buehrle's pretty much got his mind made up? Not quite.
"When next year gets here and knowing you're going to walking away from the game, knowing if I have something left or not, I have to hope that first of all, I'm healthy," Buehrle added. "And second, someone wants to sign me. Obviously, it's a plus if that is. And obviously it's going to be harder to make a decision."
Unless Buehrle completely blows up in 2011 with a mixture of flat-out ineffectiveness, concerning injuries and a surly attitude, he won't have to worry about getting a contract -- nor worry if he will get a multi-year offer.
It's unlikely Buehrle will suddenly forget how to throw a baseball. His mid-80s heater doesn't fool anyone, but his blend of control, movement and craftiness more than make up for it. On the year, he is 12-10 wih a 4.32 ERA in 204 1/3 innings. For his career, he stands a lofty 147-110 with a 3.85 ERA. Those numbers won't suddenly disappear, and neither will the money for those numbers.
It's not just the money that matters to Buerhle about staying, however.
"It could be a tough decision, knowing this is all you've known for 15 years of your life and constantly having to be somewhere, to go somewhere. And all of a sudden you have nothing to do. It's going to be a tough decision."
-- Evan Brunell
For more baseball news, rumors and analysis, follow @cbssportsmlb on Twitter or subscribe to the RSS feed .