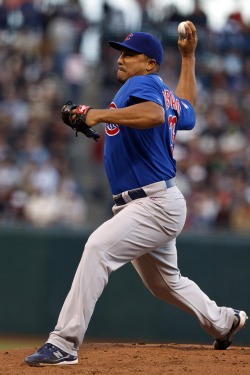 Now that the
Yankees
have lost out on Cliff Lee, who could the club go after?
Well, for starters, the club has agreed to a minor-league contract with Mark Prior. Who knows, it could work out. But probably not.
Good thing there's always Andy Pettitte. The Yankees could up their offer to entice him out of retirement, but even with Pettitte, the Yankees are seeking a strong option for the rotation. Right now, it would be comprised of
CC Sabathia
,
A.J. Burnett
,
Phil Hughes
,
Ivan Nova
and... who knows, maybe Sergio Mitre?
Carl Pavano is the only starter left on the market that fits the bill. Any other starter would fill in at the back of the rotation, while Pavano would make a strong case to be the No. 3. One problem: The Yankees and the fans have already had their fill of Pavano. However, New York did give
Javier Vazquez
a second try, so you never know.
Other options reside in trade. There's obviously
Zack Greinke
, but there are too many reports that New York doesn't have what it takes to acquire Greinke, plus there's far too many questions on whether Greinke would even want to pitch in New York, nevermind if he could.
Other trade options include the
White Sox
and
Gavin Floyd
as the club has been willing to listen on the righty. You can bet the ChiSox would also love to listen to deals involving
Edwin Jackson
as Jackson was only acquired in a desperate gambit to land
Adam Dunn
from Washington in what remains a curious decision from the Nats in passing. However, is Jackson better than what's left on the free agent market sans Pavano? Mmm... probably not.
The name of
Ricky Nolasco
is also making the rounds, but Florida has said it has no plans to move Nolasco even with the two sides struggling to agree to a contract extension.
Perhaps the
Cubs
could be enticed to part with
Carlos Zambrano
(pictured). It's no secret the two sides are tired of each other, but Big Z has a hefty contract and blew away the competition near the end of 2010, so would require a strong package in return. Still, the Yankees have the money and perhaps the will to pry Zambrano away.
Past that, the Yankees could come calling for
Matt Garza
or
James Shields
, although the
Rays
may not want to deal within the division. Jesus Montero may be enough to change their minds.
Another option New York has is to slot in with an average pitcher and wait until 2012 to make their move for a top starter.
Problem: Unless Philadelphia declines
Roy Oswalt
's 2012 option, the best starter on the market is
C.J. Wilson
. And granted, if Wilson repeats his 2010 season, he'll be an enticing name. But that should tell you all there is to know about 2012's free-agent market.
Except there's one very important person in the Pacific that will be posted and could make major waves.
That's Yu Darvish, who has opted to stay in Japan one more season but has essentially conceded he is headed east for 2012. The Yankees -- as well as any other team -- would love to get Darvish's services, and you can bet New York will be hot to trot after the righty.
But so will any number of teams such as Washington and the
Angels
, so Darvish to the Yankees isn't quite a sure thing. And no, simply expecting New York to outbid everyone in the posting process is not a sure thing. For one, the
Red Sox
blew the Yankees away for
Daisuke Matsuzaka
. And second, the Oakland A's not agreeing to terms with Hisashi Iwakuma in what some believe was a gambit to keep him away from the
Rangers
underscored a flaw in the posting system. That is, you can bid any amount for the player but do not have to pay the fee if no terms are agreed to.
What's stopping Boston from bidding an outrageous $100 million fee (double Matsuzaka's fee) and then just simply letting him walk away?
This much is clear: the Yankees have a lot on their hands to build their rotation now that the Cliff Lee saga has ended.
-- Evan Brunell
For more baseball news, rumors and analysis, follow @cbssportsmlb on Twitter or subscribe to the RSS feed.