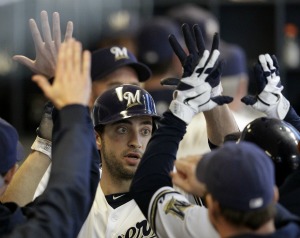 By C. Trent Rosecrans
For a team derided all season as having one of baseball's worst defenses, the Brewers got a big defensive play in the first inning of the first game of the National League divisional series when Ryan Braun threw out Arizona's Willie Bloomquist at the plate.
Bloomquist, who singled on the first pitch of the game, stole second and then tried to score on Justin Upton's single to left. Braun fielded the ball cleanly and made a two-hop throw to the plate, where catcher Jonathan Lucroy complete blocked the plate to record the second out of the inning. After the play, Gallardo settled down, retiring the next seven batters he faced before walking Aaron Hill to start the fourth. After the Hill walk, he retired the next seven he faced, as the Brewers took the lead in the fourth and added to it with another run in the sixth. Milwaukee went on to win, 4-1.
The Diamondbacks pride themselves on their aggressive base running, taking the extra base and third base coach Matt Williams waved Bloomquist around.
"Teams can't like us making them make the play all the time," manager Kirk Gibson told Nick Piecoro of the Arizona Republic. "They don't like it. I'm telling you. There's pressure. . . . I've made the determination that we'll be a better team by encouraging aggressiveness rather than subduing them. Understanding those risks, I just think we're a better team overall that way."
The Diamondbacks took that risk against Braun, and lost.
For more baseball news, rumors and analysis, follow @eyeonbaseball on Twitter or subscribe to the RSS feed.