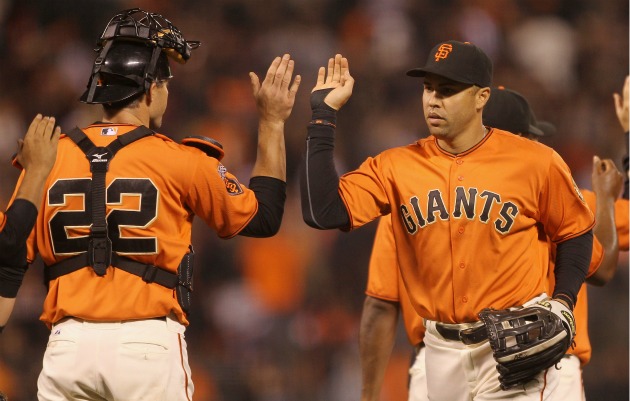 By C. Trent Rosecrans
Carlos Beltran was the hottest name at the trade deadline and he'll be the top name in free agency. Still, no outfielder will come close to matching Carl Crawford's seven-year, $142 million dollar contract -- the entire crop may not get as much as Crawford and Jayson Werth put together.
For all free agency moves, check out the CBSSports.com free agency tracker.



1. Carlos Beltran: Even though he'll be 35 early in the 2012 season, the switch-hitting Beltran is the top outfielder available on the market, thanks to a bounce-back (and mostly healthy) year in New York and San Francisco. Although he didn't jumpstart the Giants' offense after his trade tot eh Bay Area, he still produced his fair share, if not more. One player couldn't overcome the Giants' overall lack of offensive production. He hit .323/.369/.551 with seven home runs in 44 games in San Francisco and .300/.385/.525 with 22 homers overall.
Possible teams: Giants, Yankees, Marlins, Cubs, Braves

2. Nick Swisher: The Yankees have a $10.25 million option on Swisher, who hit .260/.374/.449 with 23 homers in 2011. The money million won't be an issue for the Yankees, who will most likely pick up the option. There has been a report that New York may exercise the option and try to sign Beltran, then trading Swisher.
Possible teams: Yankees

3. Michael Cuddyer: Cuddyer's versatility could make him a hot commodity. He's primarily played right field, but also played first, second and has played third in the past -- he even pitched a scoreless inning this past season, hitting .284/.346/.459 -- close to his career numbers. He also hit 20 home runs this past season and hit 32 in 2009 before the Twins moved to the spacious Target Field.
Possible teams: Twins, Red Sox, Phillies, Braves, Giants, Angels, Athletics, Cubs, Cardinals, Rockies

4. Jason Kubel: The 29-year-old enters free agency after playing in just 99 games due to foot problems, it was the first time since 2007 he didn't play at least 140 games, but whoever signs him will be giving that left foot a thorough inspection. Kubel can play either corner spot and give a team some pop -- and if you're into RBI, he did have 103 and 92 in his last two full seasons.
Possible teams: Twins, Red Sox, Cubs, Reds, Indians

5. Josh Willingham: The right-handed hitting Willigham had career-bests in home run (29) and RBI (98) -- but saw his batting average (.246) and on-base percentage (.332) take a tumble from not only his lofty 2010 numbers, but also his career averages (.262, .361). Willigham is hardly a Gold Glover and there are also concerns about his durability.
Possible teams: Athletics, Reds, White Sox, Twins, Orioles

6. Coco Crisp: The 31-year-old is the top center fielder available, so that should help his stock. After a hot start, Crisp struggled in 2011, putting up his lowest on-base percentage (.314) since his second season in the majors. He did lead the American League with 49 stolen bases. The A's have had some interest in re-signing Crosp, but the price could be too high. The Giants have said to have interest in him, as well.
Possible teams: Athletics, Giants, Marlins

7. Grady Sizemore: The biggest risk/reward of the free agent outfield class -- if he hits free agency. The Indians have a $9 million option on the 29-year-old, who has played just 104 games over the last two seasons because of various injuries. He hasn't played more than 110 games in a season since 2008. When healthy, he's as talented as any player in the game -- but that's a huge if. Either the Indians will gamble and exercise his option or someone else will roll the dice.
Possible teams: Indians, Mariners, Giants, Marlins, Cubs, Reds

8. David DeJesus: DeJesus' first year in Oakland was a serious disappointment, as he saw his average drop .078 and his on-base percentage dropped .061, both to career-lows of .240 and .323, respectively. However, his batting average on balls in play (.271) was 45 points lower than his career mark and his walk rate increased, so it may have just bit a bit of bad luck -- and playing in the Oakland Coliseum.
Possible teams: Padres, Orioles, Braves, Red Sox, Phillies, Athletics

9. Andruw Jones: At 34 (he'll be 35 in April), Jones is no longer the elite defensive player he once was, but he put up solid numbers as a platoon player for the Yankees, hitting .247/.356/.495 with 13 home runs in 77 games, but hit .286/.384/.540 against right-handers. He could make a decent addition as a bat off the bench and late-gaem replacement in a corner outfield spot.
Possible teams: Yankees, Braves, Rays, White Sox, Reds

10. Cody Ross: After playing a pivotal role in the Giants' run to the 2010 World Series title and winning the NLCS MVP, Ross struggled in 2011, hitting .240/.325/.405 with 14 home runs. Wherever he lands, Ross will likely have to take a pay cut from the $6.3 million he made in 2010.
Possible teams: Giants, White Sox, Braves, Reds

11. J.D. Drew: The biggest question is whether Drew will want to play as a 36-year-old platoon or bench player. The days of Drew taking a starting spot seem to be over, as he hit just .222/.315/.302 i 81 games this season. He was close to useless against lefties, hitting just .167/.259/.292 with one homer against left-handers in the final year of his five-year, $70 million deal with the Red Sox.
Possible teams: Rockies, Pirates, retirement

12. Ryan Ludwick: Ludwick has a chance to disappoint his third team in a year -- as the 33-year-old has just not performed since taking off a Cardinals uniform. He started the season hitting .238/.301/.373 with 11 home runs in 101 games for the Padres and .232/.341/.330 with two homers in 38 games for the Pirates. In four years with the Cardinals, Ludwick hit .280/.349/.507.
Possible teams: Pirates, Braves, Reds

13. Kosuke Fukudome: It's safe to say Fukudome's next contract will be a little smaller than the four-year, $48 million deal he signed with the Cubs before the 2008 season. Fukudome was burdened by high expectations, failing to live up to the contract, hitting .260/.361/.399 in four seasons in MLB. A pretty good on-base guy, Fukudome's best as a leadoff man, which may make him a little more valuable than his numbers suggest.
Possible teams: White Sox, Indians, Reds, Athletics, Japan

14. Eric Hinske: The Braves have an option on Hinske, and it's just $1.5 million -- so it's likely they'll pick it up. Hinske can play both outfield spots, as well as first base, so he's a useful bench player. However, the Braves are already a little too left-handed heavy and Hinske was dreadful against lefties (.118/.167/.294).
Possible teams: Braves, Pirates, Mariners

15. Raul Ibanez: The Phillies seemed to want to find anyone other than Ibanez to man left field all season, but could never find anyone that was an improvement over the 39-year-old. His average (.245) and OBP (.289) both tumbled this season, but he still hit 20 home runs and drove in 84.
Possible teams: Phillies, Pirates, Mariners, retirement

16. Jonny Gomes: Goems projects as a Type B free agent and has publicly said he'd likely accept arbitration if offered. Gomes struggled in 2011, hitting just .209/.325/.389 with the Reds and Nationals, but did see his walk rate increase, although his power too a tumble, hitting just 14 home runs. He's best in a platoon situation, crushing left-handed pitchers to the tune of .311/.407/.456.
Possible teams: Nationals, Braves

17. Juan Pierre: Pierre stole 41 fewer bases in 2011 than he did in 2010, but he was caught stealing just one fewer time, leading the majors by being caught stealing 17 times. Pierre was once fast, but doesn't seem to be anymore, which means he has very few marketable skills. Well, he did lead the majors with 19 sacrifice bunts.
Possible teams: Giants, Reds, Pirates

18. Magglio Ordonez: Ordonez re-fractured his right ankle during the ALCS -- the same injury that caused him to consider retirement during the season. Rehabbing that injury could be more than he would like to do at 38, especially coming off of a .255/.303/.331 season. Ordonez did look good in the ALDS victory over the Yankees, but his health just wouldn't hold out.
Possible teams: Tigers, retirement

19. Corey Patterson: Somehow, some way, Patterson keeps popping up in the big leagues. He's kind of like a weed. He doesn't do much of anything well, but he's kinda fast. Other than that… yeah. A career .252/.290/.400 hitter, you never think you'll see him again, but ultimately, you do.
Possible teams: Any

20. Juan Rivera: Rivera's 62 games with the Dodgers after being traded from Toronto showed he may just have a little something left in the tank, hitting .274/.333/.406 with five home runs for Don Mattingly. He's still likely a platoon player, but can play both corner spots and first base. The Dodgers have expressed interest in bringing him back.
Possible teams: Dodgers, Padres, Pirates
Free-agent position rankings:
C
|
1B
|
2B
|
SS
| 3B |
OF
|
DH
|
SP
|
RP
Free-agent overall rankings:
Position players
|
Pitchers
For more baseball news, rumors and analysis, follow @eyeonbaseball on Twitter or subscribe to the RSS feed.