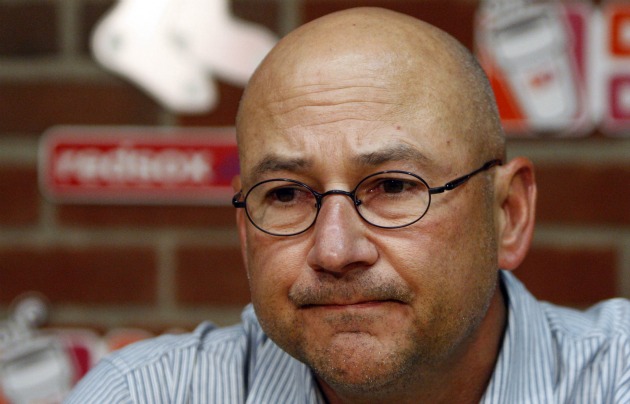 By Evan Brunell

Both Peter Gammons and Terry Francona appeared on WEEI. One guess what they talked about.
"I think it was very difficult on Terry," Gammons said, speaking about Boston's skid in September that left them out of the postseason. "Did it get out of control to some degree? Yeah I guess so. I think he has been portrayed too much as this guy who was cowering in a corner. ... He had been really beaten up. We've talked about it here, we've kidded about it, the tenures of managers in Boston should be judged in dog years. So at the end of 56 years of managing the Red Sox, he needed to move on."
A lot of discussion has centered around whether Francona was fired or not, and Gammons believes that if he had not walked away, the organization would have let Francona go.
"I had a strong implication that ownership was not going to pick up the option no matter what," Gammons said. "Now, when Theo on Thursday talked to Terry and said, 'OK, we want to go in and make your case on how we move forward.' At that point, I think Terry was convinced no matter what he did or said, they weren't going to pick up the option. And I don't think Terry Francona's the type of person who is going to go in and beg for anything, and he shouldn't have to, not with his history."
It's clear that the Red Sox wanted changes, and at least publicly said they were willing to entertain Francona returning with several tweaks as to the way he did his job. But Francona's a successful manager who has a reputation, and an established way of doing business. He wasn't about to change for a skeptical ownership, so you can understand why he chose to walk away and save some face. But you can tell it wasn't entirely Tito's idea, as he mentioned when he took to the airwaves himself to discuss his departure.
"It was kind of mutual, and that's what we said," Francona said. "Even if we did win, there were things that were bothering me... It was more of an attitude toward our team that distressed me." He added that he did not know if he would have accepted a return to Boston even if he was invited back. "Regardless of how ownership feels... I had a responsibility to get something done, and I didn't get it done, and I need to wear that," he said.
From the Twitter feed of the
Providence Journal
's Brian MacPherson, here is a breakdown of Francona's comments:
"I've tried to gain some perspective. That's not the easiest thing to do."
On relationship with [GM Theo] Epstein: "There were days he wanted to wring my neck. I don't blame him."
On player leadership: "As the season progresses, teams take on a personality and an identity, and we didn't seem to be doing that."
On having beer in the clubhouse: "What happens in the clubhouse during the game, I wouldn't see. ... I'm not so naive to think somebody wouldn't have a beer. ... I don't know a lot about it. I don't think it's the end of the world. ... They're men, and they deserve to be treated like it."
On pitching coach Curt Young, whom Red Sox Nation is calling for as a scapegoat: "This guy was as steady as you're going to find. ... If you can't listen to him, you've got a problem."
On FOX gig, where Francona will broadcast Games 1 and 2 of the ALCS: "I've only broadcast one other game in my life ... and I sucked. This is going to be interesting."
On putting Aceves in the rotation: "I don't think we could have afforded to do that, or I would have done it."
"The great teams, the players police themselves -- not exclusively, but ... when something's getting messy, they clean it up."
On talk about pitchers' conditioning: "That might be getting a little bit of a life of its own."
For more baseball news, rumors and analysis, follow @EyeonBaseball on Twitter or subscribe to the RSS feed.