Could anyone have asked for a better NLCS matchup? (Okay, after putting partisan picks aside.)
The
Phillies
will do battle with the
Giants
for the right to advance to the World Series, and at the forefront of it will be the most valued commodity in baseball: pitching. Both teams will square off with the best three-deep postseason pitching matchup since 1992's World Series.
Here is a breakdown of the top three starters, plus the projected Game 4 starters.
GAME 1
In Game 1,
Roy Halladay
will battle
Tim Lincecum
(right). "The Freak" has won the last two Cy Youngs for the Giants, but he has no shot this year -- some due to his own regression, but Halladay is another big reason why. This is as marquee as a matchup can get, and it will be done on the stage of the NLCS.
THE SKINNY
:
Lincecum: 16-10, 212 1/3 IP, 3.43 ERA, 3.21 xFIP, 231 K, 76 BB
Halladay: 21-10, 250 2/3 IP, 2.44 ERA, 2.92 xFIP, 219 K, 30 BB
DIVISION SERIES:

Lincecum: 1 GS, 9 IP, 0 ER, 2 H, 1 BB, 14 K, W
Halladay: 1 GS, 9 IP, 0 H, 0 ER, 1 BB, 8 K, W
THE EDGE:
Lincecum struggled through a brutal August, but turned it around and is as hot as any pitcher can be. Halladay is coming off a no-hitter (pictured below, celebrating), and there's just no way to pick an edge. Feel sorry for the offenses.
GAME 2
How much in common do the Phillies and Giants have? So much in common that they're choosing not to slot in a lefty in-between right-handed starters. Nope, the No. 2 starters, handedness be damned, belong to
Roy Oswalt
and
Matt Cain
. Oswalt has been stupendous since leaving Houston for Philly, and Cain would be the ace of most teams.
THE SKINNY:

Cain: 13-11, 223 1/3 IP, 3.14 ERA, 4.19 xFIP, 177 K, 61 BB
Oswalt: 13-13, 211 2/3 IP, 2.76 ERA, 3.45 xFIP, 193 K, 55 BB

DIVISION SERIES:

Cain: 1 GS, 6 2/3 IP, 0 ER, 2 BB, 6 K
Oswalt: 1 GS, 5 IP, 3 ER, 1 BB, 1 K
THE EDGE:

Oswalt admitted he was rusty in Game 2 of the NLDS, but don't expect that to slow him down. While Cain spun a nice game against the
Braves
, Oswalt still has him beat in total numbers, so this is also a push.
GAME 3
And here is an all-lefty Game 3, with
Jonathan Sanchez
and
Cole Hamels
opposing each other. Sanchez has a no-hitter to his name. Hamels has a World Series MVP trophy. It ain't gonna be easy, especially for Philly's lefty-laden lineup. Say this about the Giants: they have many options from each side.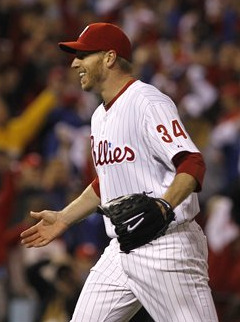 THE SKINNY:

Hamels: 12-11, 208 2/3 IP, 3.06 ERA, 3.43 xFIP, 211 K, 61 BB
Sanchez: 13-9, 193 1/3 IP, 3.07 ERA, 4.11 xFIP, 205 K, 96 BB

DIVISION SERIES:

Hamels: 1 GS, 9 IP, 0 ER, 0 BB, 9 K
Sanchez: 1 GS, 7 1/2 IP, 1 ER, 1 BB, 11 K
THE EDGE:

This one isn't a push. Sanchez is a great pitcher with no-hit stuff, but Hamels is consistently great. That gives him a pretty clear edge over Sanchez, but not a gigantic one. Offense aside, this is the one matchup the Phillies need to take advantage of.
GAME 4
Game 4 will likely be started by
Joe Blanton
and
Madison Bumgarner
. Each has warts, but each has pros as well. The edge here has to be given to the Giants, which helps make up for losing the Hamels edge. If either team is in a 3-0 hole, a three-man rotation could happen.
THE SKINNY:

Blanton: 9-6, 175 2/3 IP, 4.82 ERA, 4.06 xFIP, 134 K, 43 BB
Bumgarner: 7-6, 111 IP, 3.00 ERA, 4.03 xFIP, 86 K, 26 BB

DIVISION SERIES:

Blanton: Did not pitch
Bumgarner: 1 GS, 6 IP, 2 ER, 1 BB, 5 K

THE EDGE:
Bumgarner is left-handed, which plays against Philadelphia's lineup and has the experience of clinching the NLDS against the Braves. Blanton has been a bit unlucky this season while Bumgarner has been a bit lucky, but luck derives momentum, and momentum is everything in the postseason. Edge to Giants.
-- Evan Brunell
For more baseball news, rumors and analysis, follow @cbssportsmlb on Twitter or subscribe to the RSS feed .