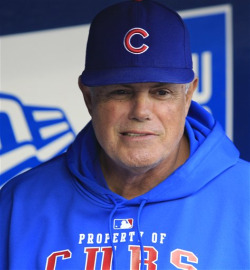 They probably didn't go out to dinner after the game, but
Cubs
manager Lou Piniella was at least diplomatic when talking about
Milton Bradley
.
The Cubs on Tuesday opened a three-game series in Seattle, where Piniella managed for 10 years. Bradley is with the
Mariners
this year after a disastrous season in Chicago and an even more disastrous (from the Mariners' perspective) trade between the Mariners and Cubs (who got the resurgent
Carlos Silva
and a load of cash in the deal).
Piniella and Bradley clashed repeatedly last season, including an incident in which Piniella sent the outfielder home in the middle of the game. Bradley left a Mariners game in May by his own choice, then took a two-week leave of absence. He said he went for counseling after his on-field struggles caused him to have thoughts of suicide.
"I'm glad that he's gotten some good help," Piniella told reporters Tuesday afternoon,
as reported
by the
Chicago Tribune
. "I'd like to see Milton do well. He was with us a year in Chicago and he did what he could. He came here to Seattle, and we like to see our ex-players do well, and Milton is no exception."
Did Piniella plan on speaking with Bradley?
"If I see him," he replied. "But I'm sure he's doing the best that he can and I wish him the best."
The same could not be said of the large contingent of Cubs fans at Safeco Field, who loudly booed Bradley when he came to the plate.
-- David Andriesen

For more baseball news, rumors and analysis, follow @cbssportsmlb on Twitter.