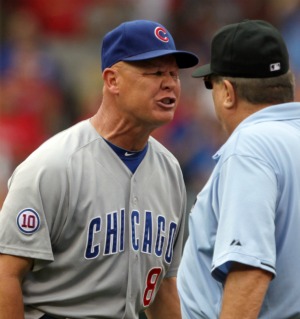 By C. Trent Rosecrans
The Cubs are 42-65 and aren't looking like they're getting better anytime soon. That has first-year manager Mike Quade looking over his shoulder -- which is probably a good idea.
Asked by reporters before Sunday's game in St. Louis if he was managing for his job, Quade replied in the affirmative. From CSNChicago.com's Patrick Mooney:
"I feel like that every day," Quade said before the game. "You come here to solve problems, to teach, to make the best decisions you can make. (I've) come from a long line of one-year contracts and the idea of people being day-to-day when they're hurt – I've always thought that was the case.

"I don't feel any more or less like that. I come here to try and do the best I can every day."
Much of the Cubs' struggles aren't Quade's fault -- the front office shoulders much of the blame. But the manager certainly isn't blameless. As Bernie Miklasz of the St. Louis Post-Dispatch noted after Saturday's 13-5 pounding at the hands of the Cardinals, the Cubs have suffered, quoting Miklasz: "a remarkable collection of physical errors, brain freezes, indifference, feral pitching, the obligatory managerial meltdown and other acts of baseball malfeasance."
Miklasz highlighted Saturday's bottom of the fifth inning as what plagued the Cubs. In that fifth inning, St. Louis' Matt Holliday -- who was on first after being walked with the bases loaded -- took out shortstop Starlin Castro with a slide on a double-play ball. As Castro dusted himself off, another run came into score. The Cubs complained about the play, but never fought back. Outfielder Alfonso Soriano loafed after a double in the corner, allowing another run to score and then had a lazy and inaccurate throw allow another run to score and the runner to advance to third. In all, it added up to an eight-run inning and the team's 65th loss of the season.
So, yeah, it's not surprising Quade feels the heat in Chicago. He should. But he shouldn't be alone.
For more baseball news, rumors and analysis, follow @cbssportsmlb on Twitter or subscribe to the RSS feed.