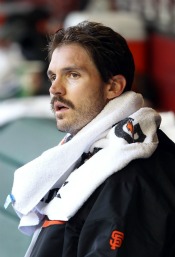 By C. Trent Rosecrans
Sunday may be Barry Zito's last start of the season for the Giants.
The left-hander will face-off against the Reds' Johnny Cueto on Sunday, but after that Jonathan Sanchez will be ready to come back to San Francisco's rotation.
"It'll come down to who we think are the five guys who are throwing the best, similar to what we had to do in the postseason," Giants manager Bruce Bochy told reporters, including Andrew Baggarly of the San Jose Mercury News. "That was four starters and this is five, but it's the same situation."
And likely the same result -- Zito out.
Zito is 3-3 with a 5.24 ERA in eight starts this season. After starting the season 3-1 with a 3.18 ERA in his first six starts, he's been shelled in each of his last two outings. The offensively challenged Padres lit him up for eight runs in 3 2/3 innings on July 16 and the Phillies put up six runs on six hits in seven innings on Tuesday.
Zito has two years left on his contract, paying him $39 million over the next two seasons and he'll then get a $7 million buyout when the club declines its 2014 option. He also has a full no-trade clause.
Sanchez is 4-5 with a 3.81 ERA in 16 starts, but hasn't pitched since June 24 with left biceps tendinitis. He led the majors in walks when he was put on the DL and had walked 25 batters in 25 2/3 innings in June.
For more baseball news, rumors and analysis, follow @cbssportsmlb on Twitter or subscribe to the RSS feed.