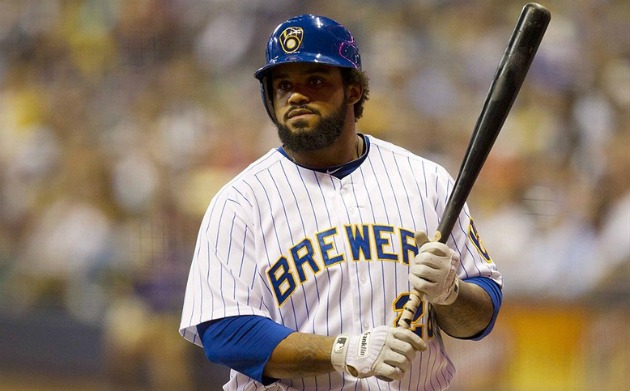 By C. Trent Rosecrans
The Rangers are meeting Friday with Prince Fielder at a Dallas-area hotel, Bob Nightengale of USA Today tweeted and CBSSports.com's Jon Heyman confirms. Heyman, though, notes not to read too much into the meeting, that the Rangers the first stop on the Princeapalooza Tour 2012 -- with future stops left in as many as three more cities.
Fielder's the last big free-agent name on the market, and the Rangers could use a first baseman, making them a perfect match. O course, there could be the matter of the money and length of contract, but on the field, it would be hard not to see a match made in heaven between Fielder and Texas. Not that this meeting means anything is happening right now, but the Rangers are thinking about the possibility, it seems.
The Rangers currently have Mitch Moreland playing first right now, and saying Fielder would be an upgrade is an understatement. Moreland's a decent player. The 26-year-old hit .259/.320/.414 with 16 homers in 512 plate appearances, which is hardly middle-of-the-order stuff, but the Rangers didn't need a middle-of-the-order guy at first base. Fielder at first base, though, would make the potent Rangers lineup that much more potent.
The Angels' signings of Albert Pujols and C.J. Wilson has made Los Angeles a favorite in some quarters. If the Rangers could sign Fielder and Yu Darvish, it would be tough to pick even the improved Angels over the Rangers as a pre-season favorite in the AL West.
However, the meeting could be a mirage of some sort. If the Rangers don't want to spend the money for Fielder, they could be posturing as a negotiation tactic as the deadline for signing Darvish nears. Many have seen Fielder as a backup plan for Darvish for Texas. Without spending for Darvish, Texas could afford to shell out the big bucks for Fielder. Rangers officials have told people they can't afford both Darvish and Fielder, but there have been bigger surprises before.
It could also be posturing on the part of Fielder and agent Scott Boras to show the Nationals that Fielder has other suitors other than Washington.
Whatever happens, someone will have Fielder come spring training and that team will be better than they were before inking the first baseman.
For more baseball news, rumors and analysis, follow @EyeOnBaseball on Twitter, subscribe to the RSS feed and "like" us on Facebook.